MQI (Alum Rock) holds fundraiser for girls' school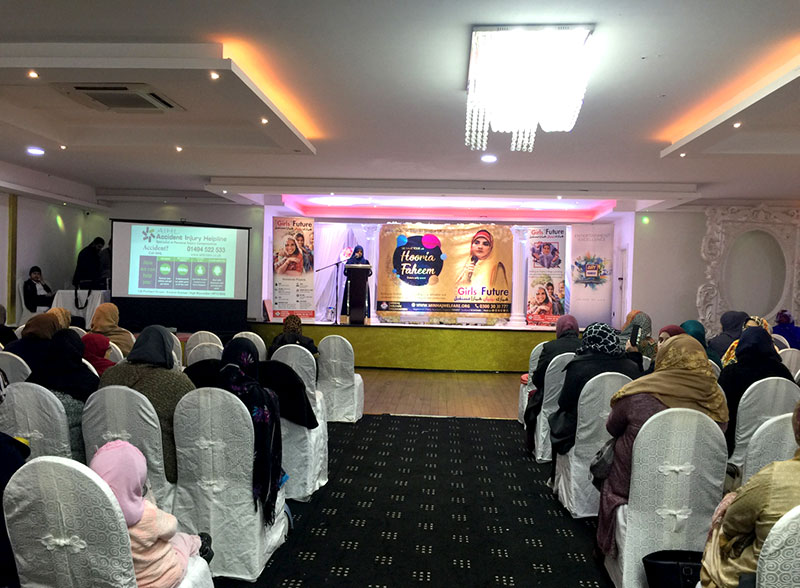 On the 4th of March 2018, Alum Rock Birmingham hosted a grand program, in Banquet Hall, which was organized by the Minhaj-ul-Quran welfare team. The program aimed to fundraise for a girl's higher education facility in Pakistan. The special guest was Hooria Faheem, famous female naat khawan from Pakistan, with the Will of Allah Subhan WaTaala and the blessing of the prophet Muhammad (PBUH).
The program started with recitation of the Glorious Quran by Sister Shahina Din MWL (President of Hall Green) and Maaria Ashraf also recited parts of Surah Rahman. This was then immediately followed by Naat Shareef by Sister Shazia Parveen MWL (general Secretary of Alum Rock Birmingham. Sister Rukhsana Iqbal MWL (Dawah Secretary of Alum Rock Birmingham) hosted first half of the program and bought the whole audience alive with Durood Shareef. She also spoke about the latest books that have been published by Sheikh-ul-Islam Dr Muhammad Tahir-ul- Qadri. Sister Rukhsana also held a bookstall with lots of Sheikh ul Islam's literature.
Sister Rabia Khanam MWL (President of Alum Rock Birmingham) welcomed everyone on behalf of Alum Rock team to this special welfare project program and thanks to Allah SWT for giving us this opportunity to raise money for girls' college in Punjab; this program called Our Girls Our Future.
Sister Rukhsana Parveen MWL (Dawah and Tarbiyyah Secretary of Midlands) spoke about how in Islam a woman's status is very high and respected especially towards education. She reiterated that education was just as a woman's right to an education as it is for a male. She read out some Hadiths about women's rights to education and what status a woman holds in the Quran and Islam. Therefore this program was hosted with the girls in mind, who through poverty are denied their Islamic right to higher education.
Sister Naheed Anwar and Brother Adnan Sohail project manager of Welfare Minhaj-ul-Quran took to stage to enlighten everyone about this fundraising project, and how much was needed. Their appeal was very successful and many ladies donated substantial amount and therefore it was a very successful program.
Finally our guest Hooria Faheem took to the stage and brought the program alive with her Naats, everyone enjoyed living Naats as well as delicious food from the stalls, which were also held to for fundraising. Hooria Faheem also wrapped up the program with a beautiful duaa and salaam, and drew out the raffle for Umrah ticket.
Reported by Shaheen Akhter Minhaj Women League (Media Secretary of Alum Rock Birmingham UK)