Milaad-ul-Nabi (S.A.W.) Vehari, Pakistan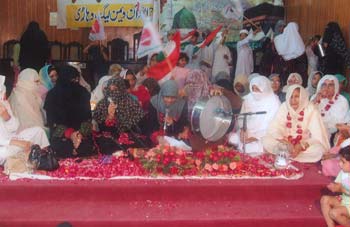 Venue: Azhar Foundation.
Organizer: Minhaj Women League Vehari.
Speaker: Miss Sajida Sadiq. (Director M.S.M. Sisters)
Naat Khwan: Sister Nazia (Okara)
Recitation: Sister Kousar Nazir
Guest of Honor: Marriam Hafeez
Attendants: 500 sisters
By the grace of Allah Almighty & Wasilla of Hazrat Muhammad (Peace be upon Him) a beautiful Mehfil-e-Milaad was organized by Minhaj-ul-Qura'n Women League Vehari.
The program started with the recitation of Holy words from the Holy Book of Guidance _Qura'n. Then a number of beautiful Nasheeds were sung by sisters of Minhaj-ul-Qura'n Women League Bara Ghar. Introductory words were said by Sister Khalida Masaood. (Director Minhaj Women League, Bara Ghar.) Who requested Sister Sajida Sadiq (Director M.S.M. Sisters) to make the special speech on Milaad-e-Mustafa (S.A.W.)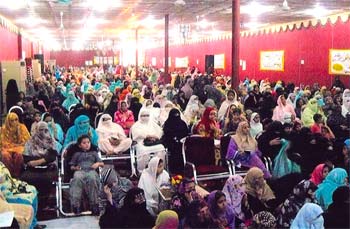 Sister Sajida Sadiq. (Director M.S.M. Sisters) delivered a very heart warming speech on the importance of celebrating Milaad-un-Nabi (S.A.W.) and its objectives. She said that the first and foremost objective of Milaad Celebration is to thank Almighty Allah (S.W.T) for His greatest favor He bestowed upon us. Indeed this is the Holy Prophet Muhammad (S.A.W.). Other objectives include strengthening the relation with our Beloved Prophet (S.A.W.), spreading the Love of Prophet (S.A.W.) among the audience and specially the children, increasing our knowledge about the Seerah of the Beloved Prophet (S.A.W.) and increasing our practice upon the Seerah. She also stressed that celebrating the Milaad is an accepted act in light of Hadith of Bukhari in which Hazrat Abbas (May Allah be well pleased with him) was told by Abu Lahab that he receives reward in the Hell because he celebrated Milaad by freeing his servant Thuwaibah out of Joy.
In the end of the Mehfil Sister Marriam Hafeez's (Central vice Director. Directorate of Training Minhaj-ul-Qura'n Women League.) prayer brought tears to every ones eye.
May Allah Almighty accept our efforts and grant us more strength to celebrate more blessed Milaad programs.
Amen!!! Be jahay Sayad ul Mursalin!!!
Reported by: Sadaf Iqbal. (Women League Pakistan.)