Pope Francis' statement on publication of controversial images welcomed: Sohail Ahmad Raza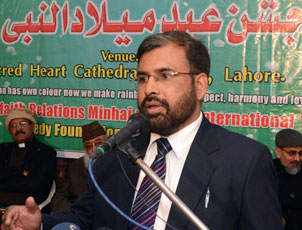 Sohail Ahmad Raza, Director of Interfaith Relations of MQI, has said that we welcome the statement of Pope Francis in which he strongly condemned the publication of blasphemous caricatures in a French magazine. He said that the Pope described the act as a grave conspiracy against religions of the world. He said that the Christian leader has established a fine example of interfaith harmony by expressing his solidarity with the Muslims. He said that such evil acts as publication of controversial images will have to be stopped for maintenance of international peace.
Meanwhile, Sohail Ahmad Raza expressed his condolence on the demise of mother of Dr James Chunan, Pope Francis' representative in Pakistan. He also condoled with distinguished Sikh leader Sardar Bishin Singh on the death of his father. He expressed sympathy with the bereaved families.