Students at MSM rally decry violation of pro-people constitutional provisions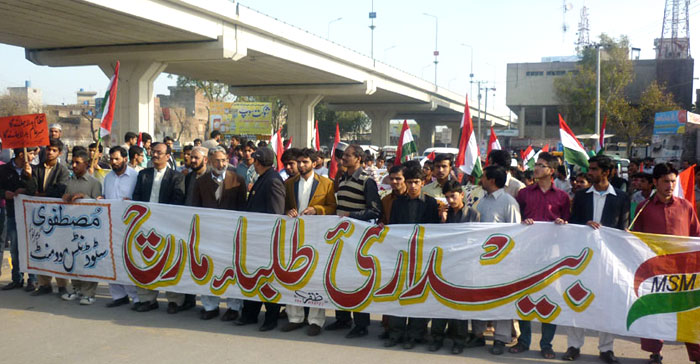 Mustafavi Students Movement (Gujranwala chapter) organized a Student Awareness March on March 14. The March, which began from Gondalianwala and concluded at the Press Club, was led by MSM central President Chaudhry Irfan Yousaf and vice President MSM Razi Tahir. Member central cabinet Kashif Fayyaz Cheema, Subtain Ali Klair, President MSM Gujranwla Ijaz Maher, Coordinator Rehan Hameed and others were also present in the March. The procession passed through various roads and culminated in front of the Press Club where the speakers delivered their speeches.
Speaking to the participants of the March, MSM President Chaudhry Irfan Yousaf said that Article 25 of the Constitution talks of equality, whereas the obsolete system has divided us into various factions, classes and groups. He said that Article 25-A of the Constitution obligates the state to provide free compulsory education to children up to age of 16 years, whereas 8 million people were out of schools in Pakistan. He said that all those constitutional provisions that talk of people's rights have practically been put into abeyance since the inception of the Constitution to date. He said that those who willfully did so needed to be booked under the charge of rebellion against the Constitution. He said that our so-called political leaderships have kept us deprived of the basic necessities of life. He said that time has come for the people to act decisively but peacefully and democratically to change the system that has been protector of interests of the ruling elite.
Vice President of MSM Razi Tahir said that awareness among the students was proof of the fact that no power of the world could stop the way of change. He said that the students would not be content unless they eliminated exploitation and oppression under their leadership. Other speakers also spoke at the occasion.
The students were carrying placards with anti-system slogans written on them. They dubbed the leadership of Dr Tahir-ul-Qadri as the last ray of hope.. Special prayer was made for security and stability of the country.