PAT Gujranwala leader Saifuallah Chatha passes away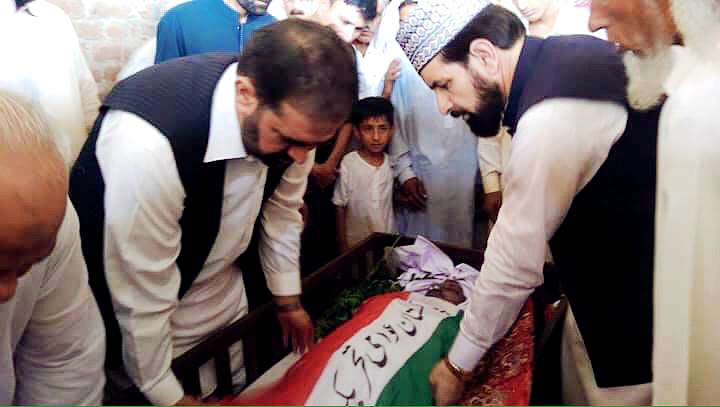 Talking to media after attending the funeral ceremony of PAT Gujranwala leader Saifullah Chatha who had got injured in the revolution march, PAT President Dr Raheeq Abbasi said that Gujranwala police subjected Saifullah Chatha to torture on August 8 while he was on his way to Lahore to attend a programme in connection with the martyrs' day. He sustained serious injuries due to torture and remained hospitalized for a very long time and passed away his last night.
Dr Raheeq Abbasi said that the Noon League (PML-N) has proven itself to be 'Khoon League' thanks to draconian tactics it employed to victimize the political opponents in general and the PAT workers in particular. He said that the oppressive rulers spilled the blood of workers like water just to save their illegitimate power and chronicled a new chapter in the book of oppression.
Paying tributes to Saifullah Chatha, Dr Raheeq Abbasi said that he was a patriotic, democracy-loving and courageous leader who fought against the system of oppression and the journey of his life finally culminated in the attainment of mantle of martyrdom. He said that the injuries sustained by the workers on their bodies have hurt our souls, which will remain unforgettable. He said that it is our commitment with the martyrs and the injured that we would avenge every act of oppression. He said that today every labourer and citizen is asking whether Pakistan was achieved for big business and wealthy people.
Meanwhile, Sahibzada Faiz-ur-Rehman Durrani, Khurram Nawaz Gandapur and Sheikh Zahid Fayyaz have expressed their deep sense of grief and sorrow on the death of Saifullah Chatha and condoled with his family. They said that we have been deprived of a precious worker, and a courageous leader. They said that they share the grief of the bereaved family.
Saifullah another martyr of Inqilab March, our pledge with him- we will never forgive or forget his & others blood pic.twitter.com/aLc7vhaVKW

— Dr. Raheeq Abbasi (@RaheeqAbbasi) May 23, 2015