Minhaj Ambulance Service launched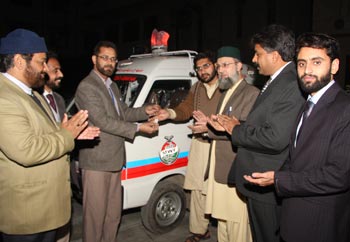 Minhaj Welfare Foundation has started its ambulance service in the Wandu area (PP-99) of Gujranwala. With this addition, the total number of ambulances under MWF has increased to 25. The inaugural ceremony was held on February 9, 2010 where Iftikhar Shah Bokhari, central Deputy Director of MWF, was the chief guest on the occasion. He handed over the keys of the ambulance to the Director welfare of the Wandu area.
Speaking on the occasion, Iftikhar Shah Bokhari said that Minhaj Welfare Foundation had already provided free ambulance service in 24 cities of the country and Wandu happened to be the 25th. The ambulance would be one-call away from a poor and deserving patient. He said that 6 million rupees were spent on the project.
Iftikhar Baig, Sahibzada Muhammad Hussain Azad, Qazi Faiz-ul-Islam, Muhammad Yasir Khan, Mian Iftikhar and others were also present on the occasion.