Sumaria Rafaqat Advocate visits Women League Karachi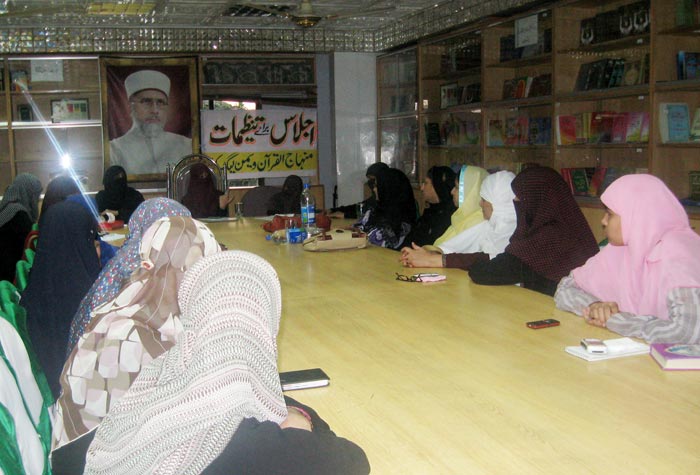 Miss Rafaqat Kahloon Advocate paid a two-day visit to MQI Women League Karachi on 12 and 13 December, 2010. In addition to presiding over and addressing the Zahra-e-Sani (Sayyida Zainab SA) Conference in National Museum Auditorium Karachi, her visit featured several meetings and visits to various Women League and MQI Karachi institutions.
She held a meeting with the Central Executive of the Karachi Women League, discussed implementation of Annual Working Plan, achievement of targets, and an evaluation of activities in hand towards completion of the remaining projects. The Executive included Shahida Mughal, Perveen Mustafavi, Fauzia Shaukat, Imtiaz Javed, Noor Fatima, Rani Arshad, Ghulam Fatima and others. On 13 Dec, Secretary General Women League visited Jamia Minhaj-ul-Quran Karachi and addressed the students.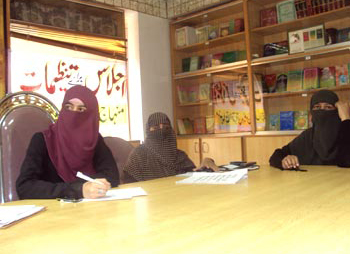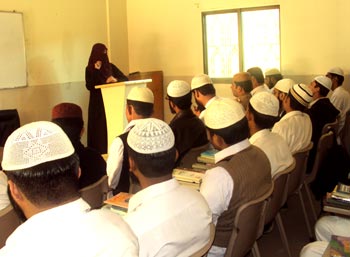 She held discussions with Mr Irshad Sa'idi with regard to upgrading the system of education, promotion of academic standard and imbuing the hearts of the students with the mission sentiment. She then paid a visit to Aghosh and exchanged views with the administrators on making the activities at Aghosh more and more productive.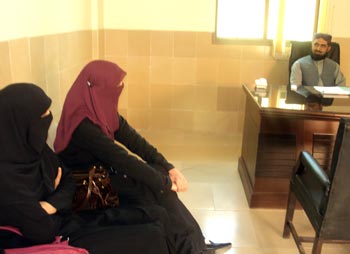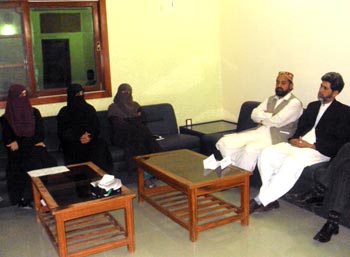 She visited Minhaj Sharia College for Women, discussed academic matters and infusing the spirit of Mustafavi Mission in students. She addressed the students and also spoke to the teachers on improving and maintaining the professional standard. She also discussed Women League projects with Dr Khawaja Muhammad Ashraf and appreciated his generous cooperation with Women League Karachi. She visited Meelad Hall, Tehfeez-ul-Quran Institute and Minhaj Library in Rahmania Masjid. Here she also held meeting with 18 local chapters of Women League Karachi and discussed with them matters pertaining to their projects in hand.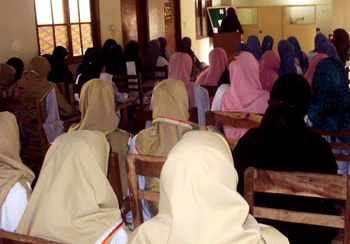 Towards the end of her visit, she also held an informal session with MQI Karachi leadership including Dr Naeem Anwar Nu'mani and Amir Karachi Sayyid Muhammad Zafar Iqbal, Qaisar Iqbal Qadri, Naib Amir, Athar Javed Siddiqui Naib Amir, Ateeq A Chishti, Nazim Tanzeemat, and Junaid Ali Qadri Nazim Media and discussed ways and means to promote Fikr-e-Quaid for effective and result-oriented struggle in the field. The exchange of views covered promotion of MQI thought employing modern methodology to be adopted to make Dawa work more and more successful.
During her visit, she spoke to students and enthused them with passion for the Mission. To draw maximum benefit from the visit, Miss Sumaira Rafaqat Advocate also held meetings with the appointment holders of various local chapters of Women League Karachi. Spending very busy days on 12 & 13 December 2010, Miss Sumaira Rafaqat concluded her visit with the decision to pay another visit to Women League Karachi towards completion of the current working plan, envisaging new activities to expand and consolidate Women League chapters at UC level.