People show great interest in Shaykh ul Islam Dr Muhammad Tahir-ul-Qadri's books at International Book Fair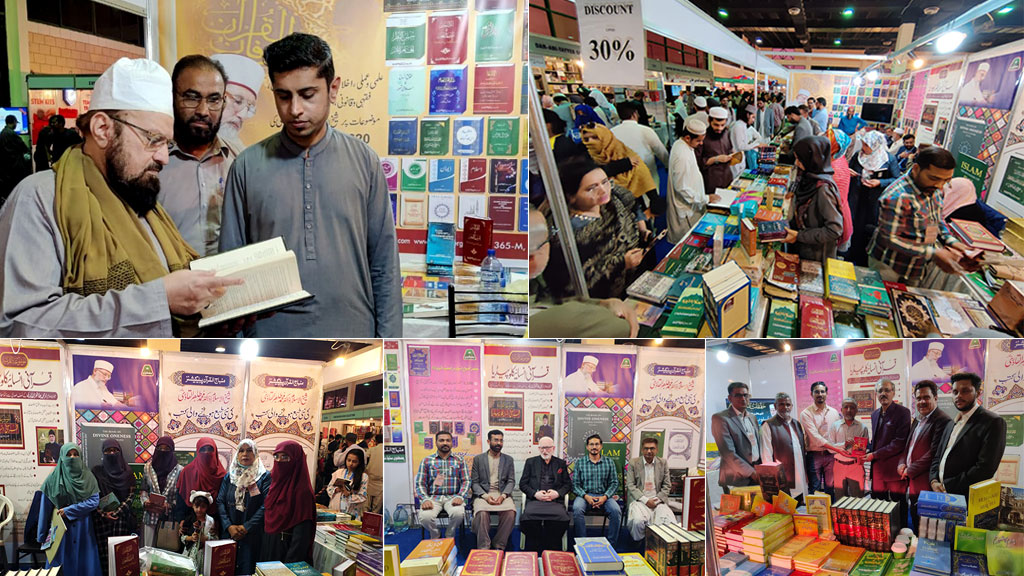 The 17th edition of the International Book Fair has come to an end. The five-day Fair was held at the Expo Center Karachi. It would start at 10 am in the morning and would continue uninterruptedly until 10 pm at night. The event featured books on different topics by around 50 international publishers in addition to 250 local publishing houses.
An important aspect of the Book Fair was a stall that exhibited the books of Shaykh-ul-Islam Dr Muhammad Tahir-ul-Qadri, which was arranged by Minhaj ul Quran Publications and MSM Karachi through a collaboration. One of the reasons of the massive interest the distinguished visitors showed in the stall of Minhaj Publications was that the hundreds of the books put on display were authored by one writer i.e. Dr Tahir-ul-Qadri. The books of Shaykh-ul-Islam on Seerat-un-Nabi (PBUH) and the Prophet's Household remained in great demand. The women took great interest in the books on children's moral training. The stall featuring the books of Dr Hassan Mohi-ud-Din Qadri and Dr Hussain Mohi-ud-Din Qadri was also part of the International Book Fair.
Among the people who visited the stall of Minhaj Publications included central PAT President Qazi Zahid Hussain, Mufti Irshad Hussain Saeedi, Syed Zafar Iqbal Shah, Ms. Fozia Junaid, Mirza Junaid Ali, Tariq Mahmood Bhatti, MQM leaders Haider Abbas Rizvi, Dr Khalid Maqbool Siddiqui, senior Jamaat-i-Islami leaders Muhammad Hussain Mehnati, Hafiz Naeem ur Rehman, Muhammad Miraj-ul-Huda, Allama Mufti Muhammad Sajjad Muqaddari, Imam Abu Yousaf, Allama Saifullah Madani, educationist Prof Khayal Afaqi, Allama Kokab Norani, Karachi Chamber leader Amir Khawaja, senior anchorperson Shahzeb Khanzada, Allama Mahmood ul Hussaini, Prof Dr Abdush Shaheed Naumani, Gazi Salahuddin, renowned author Kiran Siddiqui, Muhammad Sahibzada Abul Khair Zubair, and Umair Mahmood Sidddiqui.
The MQI leaders present on the occasion gave a brief introduction of the books to the visiting guests. They said that Dr Tahir-ul-Qadri has produced a vast body of knowledge on multiple subjects. The people appreciated Dr Qadri for his wonderful contribution to knowledge creation and said that his books would benefit the society for a long time to come.
Speaking on the occasion, Qazi Zahid Hussain said that books continue to be a preferred source of acquiring knowledge even today. He said that no period in human history has passed that was bereft of the wisdom produced by books. He said that the study of good books is necessary to keep the mind healthy and intellectually alive. He said that the book coordinates the past, present and the future and enables the readers to establish a connection with them. He welcomed the conduct of the International Book Fair and said that such events should be held regularly.