The State should play the role of a mother during flood tragedy: Khurram Nawaz Gandapur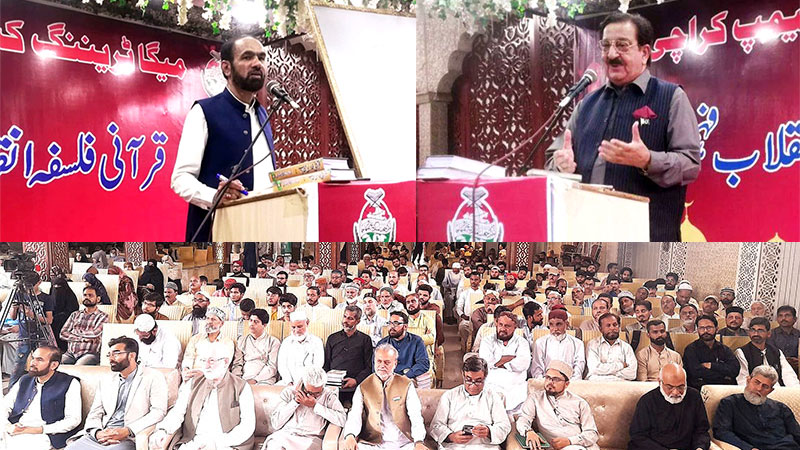 MQI Secretary General Khurram Nawaz Gandapur and deputy Secretary General Coordination Engineer Muhammad Rafique Najam attended the mega training camp on the subject of understanding the Quranic concept of revolution held by MQI Karachi.
Speaking on the occasion, Khurram Nawaz Gandapur said that both urban and rural Sindh has been affected by the worst floods that have washed away crops, infrastructure and livestock. He said that major chunks of land are still under water. He expressed his sorrow and grief at the loss of precious lives. He asked the Sindh government to redirect resources for the relief and rehabilitation of the flood affectees, stating that it is time the state played the role of a mother.
Khurram Nawaz Gandapur informed the audience that Minhaj Welfare Foundation has been extending support to the flood victims since the start of the floods and its operations continue in all the four provinces. He said that MWF has set up tent settlements in Shikarpur where food packs, hygiene kits and tents were distributed among thousands of families. He said with the availability of more resources, the scope of operations will be expanded. He said that the tragedy is massive and it is beyond the capacity of any single government, organization and entity to address the challenges.
MQI Secretary General said that Karachi is a city of lights, known for its late night outings. He said that the law and order has worsened to such an extent that the robbers kill citizens at the prospect of least resistance. He said that fear stalks the city. He asked the law enforcement agencies to attend to the law and order problem on priority basis and restore the writ of the state.
Khurram Nawaz Gandapur is a metropolitan city that houses people from all ethnicities and parts of the country. He said that a wave of religious extremism has emerged on the city scene in recent months. He asked the citizens to come forward and play their role for the establishment of a peaceful society. He made it clear that no group can be allowed to impose its agenda on others.
Khurram Nawaz Gandapur threw light on the role and services of MQI against violent attitudes and religious extremism and radicalism. He said that MQI has been at the forefront of efforts to call out such behaviors and approaches that violate the peaceful teachings of our great religion.
Secretary General MQI held meetings with the members of the various walks of life and invited them to attend the 39th Mawlid-un-Nabi Conference in Lahore.
The mega training camp was attended by central PAT President Qazi Zahid Hussain, Muhammad Naeem Ansari, Mirza Junaid Ali, Masood Ahmad Usmani, Mufit Mukarram Khan Qadri, Syed Zafar Iqbal, Sahibzada Saqib Mahmood, Shahid Hussain Rajput, Jawwad Ansari, Ms. Fozia Junaid, Ms. Nusrat Raa'na. and leading workers and office-holders of the various towns and Tehsils.