MQM decides to take part in Qadri's Long March
Sama
Monday, December 31, 2012 7:00:21 AM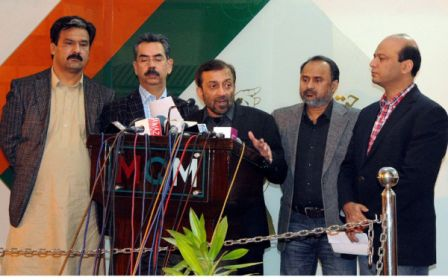 KARACHI: Muttahida Qaumi Movement (MQM) has announced to participate in Dr Tahir-ul-Qadri's January 14 Long March to Islamabad, SAMAA reports.
MQM chief Altaf Hussain has also endorsed the decision of the Co-ordination Committee.
A joint meeting of the Co-ordination Committee of MQM was held in London and Pakistan, which discussed in detail the invitation extended by the Tehreek-i-Minhaj-ul-Quran for participating in its Long March being held in Islamabad on 14th January for introducing revolutionary reforms in the electoral system of the country.
Adressing a press conference after the meeting after Dr Farooq Sattar said: "After discussing all aspects in detail the Co-ordination Committee decided to take active part in the long march being held in Islamabad on 14thJanuary for abolishing the decaying feudal system, eliminating corruption and use of money in politics, restoring the rights of the people belonging to the poor and middle classes in the politics of the country and establishing a just and equitable system in the country. The meeting decided that hundreds of thousands of the MQM workers would take part in the long march along with Minhaj-ul-Quran for these noble objectives."
"As the programme presented by Dr Qadri is the same for which Altaf Hussain has been relentlessly struggling for the past 33 years, hence the MQM has decided to extend full support for this noble cause. We are with Dr Qadri for achieving these objectives," he added.
Sattar also noted that MQM did not want to derail the democratic system nor it desired to delay the election. -SAMAA