Milad Rally organised by Minhaj-ul-Quran Youth League Karachi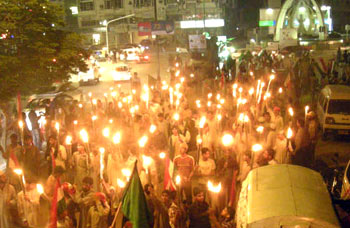 Report by:  Zahid Hussain

A Milad Rally was organised by Minhaj-ul-Quran Youth League in Karachi. After Salaat ul Isha, a rally started from Tariq Road Main chowrangi and about 02 KM distance from Tariq Road to Bahadurabad Chowrangi traveled in 02½ hours. People began to emerge after Maghrib prayer in great numbers to join the rally, MYL representatives began to distribute burning torches and colorful flags to everyone. All peoples line up in the procession and began reciting the durood.

With the tale of the procession growing rapidly, and a burning torches lighting up the darkness, an awe-inspiring atmosphere engulfed the entire procession. As the procession moved through the Main Tariq Road market streets, people emerged from the Shopping centers and apartment buildings, with curious looks. As they realized that the procession was in the honor of our beloved Prophet (PBUH.), many participants were congratulated with greetings.

At the conclusion of the Rally was addressed by Allama Naeem A. Nomani Member supreme council TMQ,  Zaheer Akhter Nazim Youth Karachi, Zahid Hussain Nain Nazim Youth, Rao Kamran President MYL & Furqan Memon President MSM and others.

A Milad Truck also the part of the rally and attracted numbers of people. Milad truck visited all main streets of the Karachi during 10 to 12 Rabi-ul-Awwal and distributed the message of Markazi Milad Conference 29th March at Karachi.