Islamic Curriculum on Peace and Counter-Terrorism launched in Karachi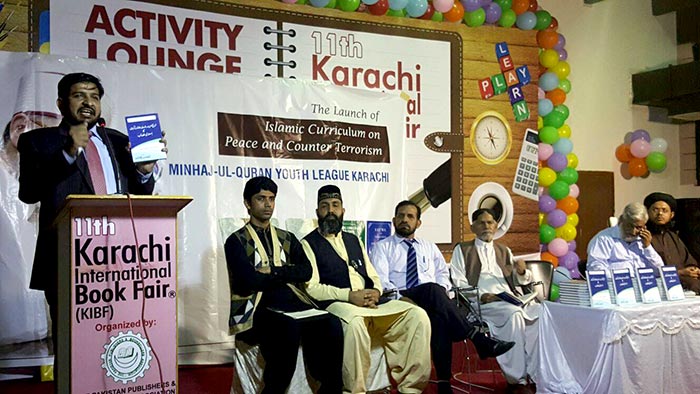 Islamic Curriculum on Peace and Counter-Terrorism was launched in a ceremony held under the banner of Minhaj Youth League Karachi at Expo Centre on November 16. The chief guest of the event was MYL President Mazhar Alvi. The Dean of Islamic Studies, Karachi University, was the guest of honour at the occasion. A large number of leaders and workers of MYL Karachi attended the programme.
The proceedings of the ceremony got underway with the recitation of the Holy Quran followed by Naat. Addressing the participants of the programme, Mazhar Alvi said that terrorism is the biggest problem facing the humanity at the moment. He said that shedding the blood of innocent people is against the ideology of Islam and the Holy Quran. He said that ISIS and other organization of such ilk are terrorist organizations and their teachings have nothing to do with Islam. He said that time has come to clash against those with full force who have been brainwashing the youth for their nefarious ends. He said that such irreligious elements have been weakening the Muslims and bringing Islam into disrepute, adding that Islam is a religion of peace and love.
Mazhar Alvi said that Dr Tahir-ul-Qadri has waged relentless struggle in the field of knowledge and intellect against terrorism, extremism, militancy, sectarianism and conservatism. He said that his magnum opus in the form of 600-page Fatwa against terrorism and suicide bombing has been available in the market since 2010, which has been translated in different language such as English, Urdu, and Hindi, whereas it is undergoing the process of translation in Arabic, Norwegian, Danish, French, German, and Spanish languages. He said that Islamic Curriculum on Peace and Counter-Terrorism designed by him represents the best service of Islam and a gift for the humanity. He hoped that these contributions will prove to be a milestone for restoration of peace by catering to the requirements of various segments of society.
The central President announced that MYL is going to initiate a peace campaign throughout the country to raise awareness against terrorism and extremism in the country. He said that peace ambassadors are being appointed at Tehsil, District and Division level in the first phase who will convey the message of love, peace, tolerance and moderation to every youth by getting them to sign a peace petition. He said that the idea behind this campaign is to eliminate terrorism and extremism at intellectual level and restoration of peace could be possible.