Eliminating terrorist ideology vital for sustainable peace: Dr Tahir-ul-Qadri addresses peace conference in Karachi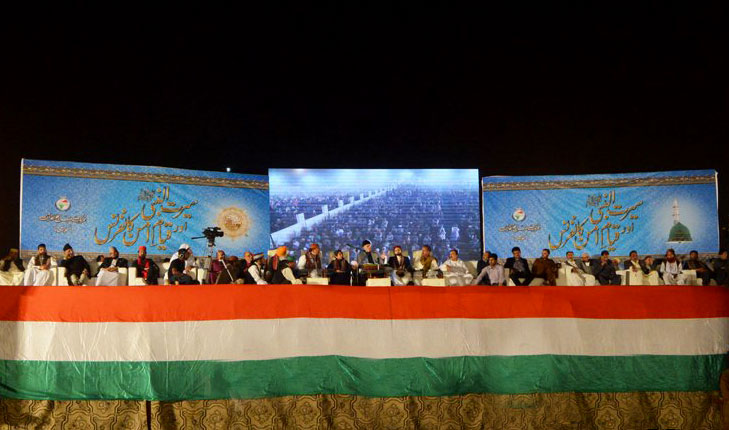 PAT Chairman Dr Muhammad Tahir-ul-Qadri has said that the life of the Holy Prophet (PBUH) is a blend of compassion, mercy, and love. He said that The ideology based on merciless killings of human beings is not Islam. It is worse than infidelity & atheism.
Dr Tahir-ul-Qadri expressed these views while addressing a peace conference on Sunday evening in Nishtar park ground, Karachi. He said that no other city of Pakistan matches bloodshed and carnage witnessed by Karachi. He said that factors that foment terrorism and extremism are religious, political, social, economic, national and international in nature.
Dr Qadri said that individuals are being eliminated in anti-terrorism operations but it is equally important to eliminate thought & ideology that creates & fosters terrorism & extremism. He said that some international forces do not want Pakistan to become secure & peaceful while local vested interests do not want to see her progress. He said that a society that does not ensure delivery of justice, education, health & jobs to people gives birth to terrorism & extremism. He said that the Pakistan of the Quaid-e-Azam is in the iron grip of the corrupt rulers.
The PAT Chairman said that Islam is a religion of peace and harmony which ordains its followers to be embodiment of peace. He said that killing of a non-Muslim citizen is forbidden and those who unjustly kill innocent people cannot even smell the fragrance of heaven. He said that 14 innocent people were killed in Model Town, adding that the institutions failed to dispense justice but Allah Almighty is with the oppressed.
The peace conference was attended by a large number of people.