Dr. Raheeq Ahmad Abbasi, Nazim-e-Aala MQI visits Karachi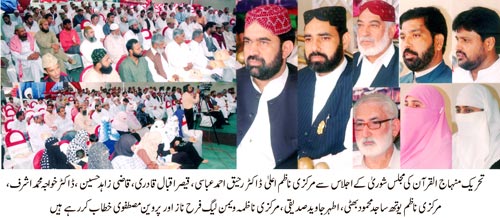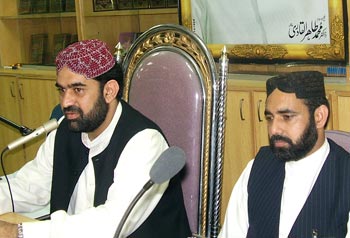 Reported by: Muhammad Ilyas Mughal
Translated by: Ali Akbar Alvi (Minhajian)
Dr. Raheeq Ahmad Abbasi Nazim-e-Aala Minhaj-ul-Quran International, Sajid Mehmood Bhatti Nazim Youth League, Miss Farrah Naz Nazima Women League paid a three days visit to attend a CD Exchange Programme and address a Spiritual Training Session in Karachi. They were given a warm welcome at Karachi Airport on 17th of August. The Workshop started at Minhaj Library adjacent to Rehmania Mosque, Tariq Road at 5 P.M. Nazim-e-aa'la chaired and presided over the workshop. The Nazims and Naib Nazims of 10 towns of Karachi, presidents of different UCs, and vast a majority of religious scholars, women, members of Youth League and Mustafvi Student Movement attended the workshop eagerly and enthusiastically. Qaisar Iqbal Qadri, Amir Minhaj-ul-Quran Karachi, Athar Javid Qadri, Nazim Minhaj-ul-Quran Karachi, Sayyad Zafar Iqbal, Saeed Qadri, Nazim Tanzimaat were also there to attend the workshop.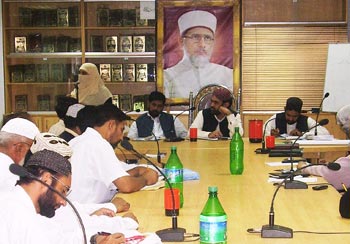 Qaisar Iqbal Qadri, Ameer-e-Tekreek Minhaj-ul-Quran Karachi, welcomed the central leaders in his opening ceremonial address. After his ceremonial Address, Mrs Farrah Naz, Nazima Women League, shed light on the role of women in practical life and the five years planning of Women League. Sajid Mehmood Bhatti, Nazim Youth League threw light on the role of youth in the enhancement and progress of country and movement. Dr. Raheeq Ahmad Abbassi, gave a briefing on CDs Exchange Programms, and well-built organization and the Future of Minhaj-ul-Quran International.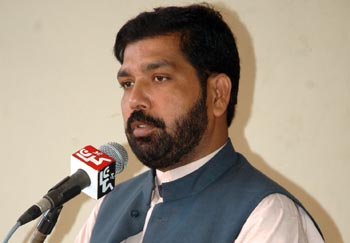 On 18th of August, the central leaders visited Minhaj-ul-Quran Islamic Centre Shah Latif Town where the workshop for other 10 towns was arranged. They also addressed the attendants there and inspired them to come forward to play their significant role in the development of Minhaj-ul-Quran International and to enhance the mission of the Holy Prophet (SAW). He urged the members of Minhaj-ul-Quran to spare maximum time for the mission so that they could achieve their targets within possible limited and short span of time. He said the time would come, if we make sincere and devoted efforts when Pakistan would become an Islamic state in its true spirit and essence. He said that today we face the challenges of extremism and terrorism and we need to cope them to save Pakistan he said that they are to come forward to promote tolerance and peace in Karachi and invite people to the mission of peace, harmony and tranquility.
On 19th August, Dr. Raheeq Ahmad Abbassi, presided over the session of Divisional Working Body and Majlis-e-Shura and Mushawarat. This session started at 10.A.M with the recitation of the few verses from the Holy Quran that was followed by the Naat of the Holy Prophet (SAW). Dr. Athar Javid Qadri gave welcoming remarks. Then Sajid Mehmood Bhatti, Farrah Naz, Dr. Khawja Muhammad Ashraf, Prof. Naeem Anwar Noamani and Parveen Mustafvi, president of Mustafvi Student Movement addressed the session.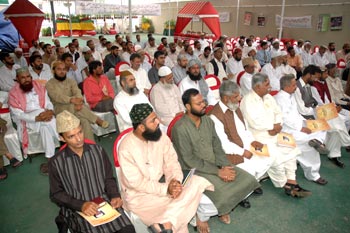 Qaisar Iqbal qadri, Ameer-e-Tekreek Minhaj-ul-Quran Karachi, presented his five years working plan that was approved enthusiastically without any opposition. Many other well known figures like Hamza dawood, vice President Minhaj-ul-Quran Karachi, Qazi Zahid Hussain Coordinator Sindh, Iftikhar Bukhari Senior vice president of Pakistan Awami Tehreek, and Dr. Altaf Zubbairi also attended the session enthusiastically. Dr. Raheeq Ahmad Abbassi, Said in his presidential address that Minhaj-ul-Quran International is a Revivalistic Movement of the present era and century. He said that the movement has done and is doing a lot to revive the true spirit and image of Islam round the globe. He said that we should promote peace and harmony in the society exhibiting good moral character. He said that we should concentrate on our moral and ethical, social and economic values and try to transform them according to the teachings of the holy Prophet (SAW). He said that we should convey the message of the mission to everyone round the globe. He said it is very important because if the people do not know what we want the dream of Shaykh-ul-Islam of Mustafvi Revolution can not be materialized.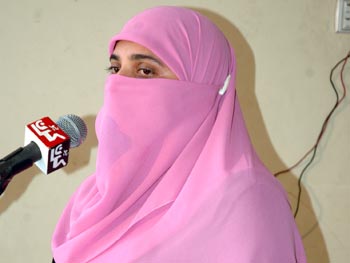 At the end of the session, different people who did well in the promotion of mission and left no stone unturned to enhance the peace were given shield and certificates for their marvelous labor and efforts.
Among those fortunate who got the shiled and certificates, were Muhammad Ilyas Mughal, Shafiq Badam Mehravi for the printing and publication of newspaper in Karachi, the movement of Sachal Sir Mast Town and Layri town for purchasing beautiful centres for the Mission, Zainab Malik and Parveen Mustafvi for the commencement of Islamic Learning courses in Karachi. The session ended with the prayers and later a lunch was served to the attendants.