The UN's inaction & passivity on Palestinian issue is shameful: Dr Tahir-ul-Qadri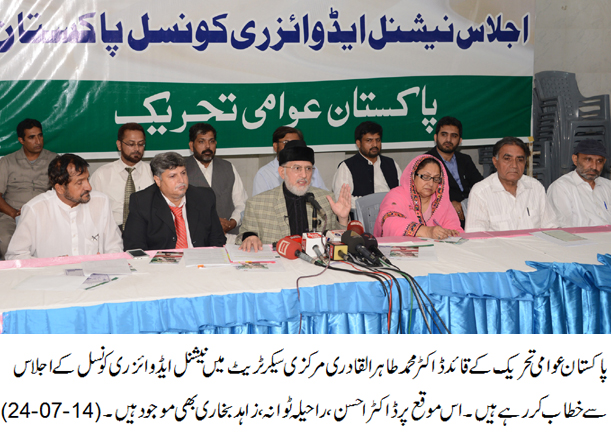 PAT leader Dr Muhammad Tahir-ul-Qadri has blasted the United Nations due to its inaction and passivity in the face of severe Israeli aggression and repression against Palestinians, adding that the conduct of the world body could only be designated as shameful to say the least. He said that lack of resolution of Israel-Palestine issue despite passage of 225 resolutions passed by the UN raised a number of questions on the role and relevance of the world body. He said that the erosion of the global community's confidence in the UN meant that it was heading fast towards the fate of the League of Nations. He demanded that the international peacekeeping force should immediately be sent to Palestine under Article 38 of the UN charter, adding that it had deployed peacekeepers in over 55 countries in the past as well and it led to positive outcome.
Dr Tahir-ul-Qadri stated this while addressing a meeting of National Advisory Council that met here in the central secretariat of PAT with over 50 leaders of various religious and political parties in attendance.
Dr Qadri said that the savage manner in which hundreds of unarmed Palestinian men, women and children were being massacred mercilessly and with abandon by the brutal Israeli forces called for a severe reaction and protests from the world community against the shameful conduct of the UN. He said that 21 resolutions were presented against Israel in 2013 alone but they were not implemented.
He said that the Pakistani rulers did not have any honour, which explained their meek position on the Palestinian issue. He said that it was for this reason that they did not play their role to raise this issue at the global level. Addressing President Obama, he said that law came into action on violation of rights of animals in the US, adding why the US was blind to atrocities being committed on the innocent men, women and children in Palestine.
Chairman of National Advisory Council Prof Tahir Zanjani, Dr Ahsan Mahmood, Zahid Bokhari, Raheela Tiwana, Dr Muhammad Ali, Col. (r ) Akhtar Shah, Feroz Gilani, Rana Ghafoor, Mehdi-ul-Hassan, Salahuddin, Muhammad Naveed Khan, Pandit Bhagat Lal, Pervez Masih and others were also present on the occasion.