Layyah: Dr Hassan Mohi-ud-Din Qadri asks religious scholars to work for ending intolerance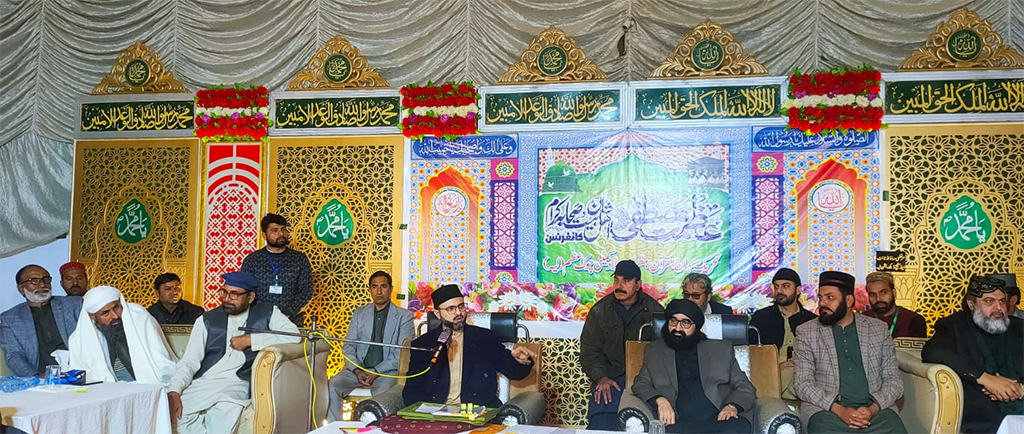 Peace, and tolerance are the core teachings of Islam. The religious scholars are the inheritors of the teachings, values and legacy of the prophets and no true inheritor can stand the violation of these teachings nor can he become the promoter of hatred.
Chairman MQI Supreme Council Dr Hassan Mohi-ud-Din Qadri made these remarks while addressing "Azmat e Mustafa (PBUH) and Shan e Ahl e Bayt & Sahaba e Karam (ra) Conference" organized under the banner of Mazhari Milad Committee at Chowk Azam, Layyah. He asked the religious scholars to work for ending the sectarian hatred and forging unity in the ranks of Muslims. He said that the Holy Prophet (PBUH) turned his worst foes and haters into his friends and lovers through his excellent conduct, love and tolerance. He said that the mild and respectful way of speaking and interacting with people can melt even the stone-hearted, stating that we need to adopt tolerance, truthfulness, respect and love as the guiding principles of our lives today.
Dr Hassan Mohi-ud-Din Qadri said that it is by following the Holy Prophet (PBUH) and the teachings of the Holy Quran that we can be successful not only in this world but also in the world hereafter, which is everlasting. He said that the companions of the Holy Prophet (PBUH) were the true manifestation of his teachings and became embodiment of reverence and respect for the Prophet's (PBUH) person. He said that Shaykh-ul-Islam Dr Muhammad Tahir-ul-Qadri is highlighting the status and respect of the companions of the Prophet (PBUH) and his household in his work.
Pir Sayyid Hassam-ud-Din Hassam Gilani (Golra Sharif), Pir Muhammad Ashraf Mazhari (Astana Aliya Piplan Sharif Mianwali), Pir Sayyid Sohail Hassan Gilani, Pir Sayyid Sanaullah Gilani, Pir Sayyid Ghous Shah Gilani, Pir Sayyid Sajid Shah Gilani, Pir Sayyid Allah Bakhsh Shah Kazmi, Sayyid Khair Muhammad Shah, Muhammad Waseem Mazhari, Sardar Shakir Mazari, Mian Noor Ahmad Sahu, Haji Muhammad Mansha, Rashid Mustafavi, Nishat Ahmad Bajwa Advocate, Ch Qamar Abbas Dhol, Muhammad Nawaz Qadri, Allama Muhammad Waqas, Muhammad Akbar Qadri, Ch Khizar Hayat, Hasnain Raza, Hasnain Raza, Shahid Mahr Saad Qadri, Shaukat Ali Mughal and a large number of people belonging to the various walks of life attended the conference.