Working for establishment of Mustafavi society is our shared mission: Dr. Hassan Mohi-ud-Din Qadri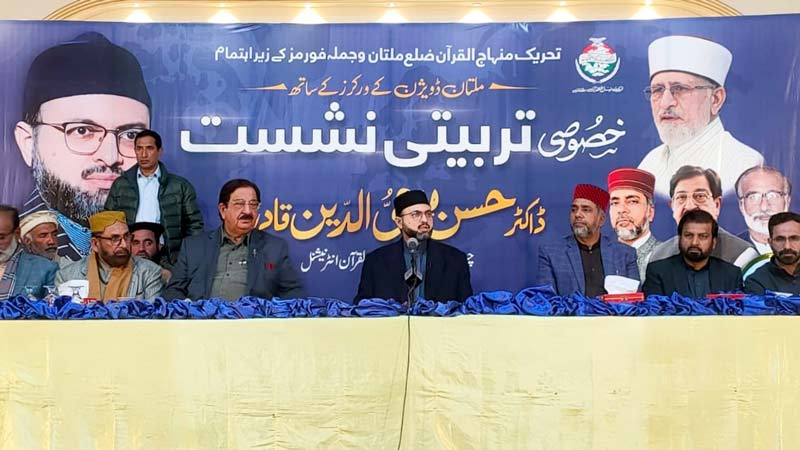 Chairman MQI Supreme Council Dr. Hassan Mohi-ud-Din Qadri has said that the purpose of the establishment of Minhaj-ul-Quran International was to spread the Islamic message of peace, love, interfaith harmony and to strive for the restoration of the Islamic system and present the true teachings of Islam to the world. He said that there is no space for extremism and sectarianism in the Islamic system and whose idea of society is based on respect for humanity and excellence of morality, adding that working for the restoration of these values is our shared mission that we want to accomplish by implementing the Quranic methodology.
Dr. Hassan Mohi-ud-Din Qadri made these remarks while addressing the Workers Convention in Multan. He said that Islam termed the service of humanity as a form of worship. He said that it is incumbent upon us that we accelerate our struggle for the establishment of Mustafavi society by propagating the Islamic core values of love and service.
In addition to the workers and representatives of the various forums, MQI Secretary General Khurram Nawaz Gandapur, Sardar Shakir Hussain Mazari, Allama Rana Muhammad Idrees, Raja Zahid Mahmood, Noor Ahmad Sahoo, Qazi Faiz-ul-Islam, Rao Muhammad Arif Rizvi, Mumtaz Hussain Noon, Ch Javed Ashraf, Qari Riyasat Ali Chaddar, Dr Zubair A Khan, Muhammad Rashid Mustafavi, Khawaja Allama Ashiq Hussain, Prof. Javed Akhtar, Muhammad Ahmad Qureshi, Makhdoom Shahbaz Hashmi, Al-Haj Shaukat Ali Dogar, Major Iqbal Chughtai, Yasir Irshad Dewan, Zaman Awan, Shabbir Nawaz, Engineer Jawwad Sadiq, Huma Ismail, Kaneez Fatima, and Anam Mustafa were present at the Workers Convention.