UK: MWL Alum Rock holds a discussion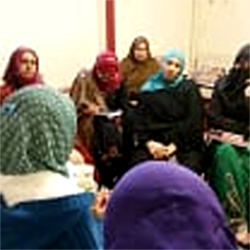 A meeting was held on the 8th of November 2015 with Ms Fatima Mash'hadi (Minhaj MWL UK President) who kindly travelled to Idara of Minha-ul-Quran on Naseby Road Alum Rock Birmingham in order to meet and appreciate the excellent work of local chapter of MWL. Sandwell, Hodge Hill, Walsall chapters were invited to the Islamic Centre to meet and spend time with Ms Fatima Mash'hadi at the appointed times.
Fatima Mash'hadi was delighted to meet the workers and congratulated them on achieving targets. She announced Alum Rock to be number 1 chapter. With the grace of Allah (SWT) it was an honour to hear these words from Fatima Mash'hadi who also appreciated and motivated the participants to continue the good work. She also informed us of future spiritual gatherings. The workers had a wonderful opportunity to have lunch and dinner with her.
Reported: Shaheen Akhter (MWL Media Secretary of Alum Rock Birmingham)