The Hague (Netherlands): Convention for Life Members held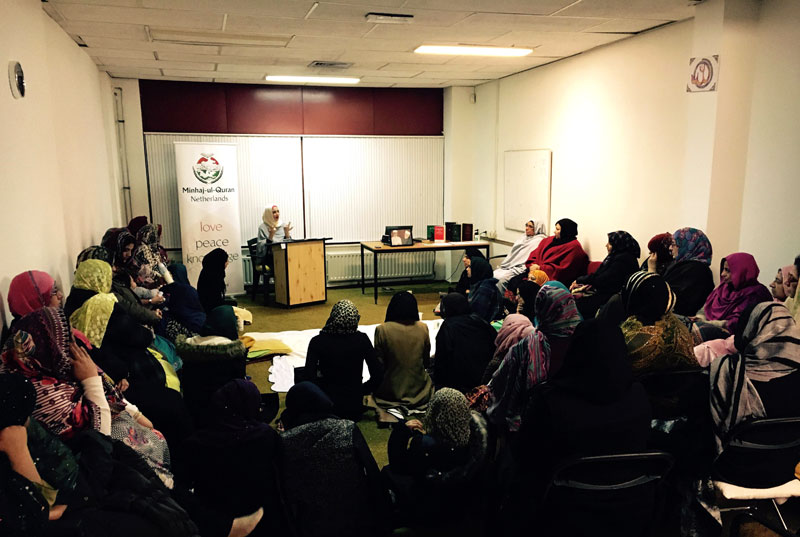 By the Grace of Almighty Allah (SWT) and his Beloved Prophet (peace and blessings be upon him), Minhaj Sisters League (The Hague & Rottedam) organized a convention for all life members of Holland. The session took place on the 2nd of February 2016. Approximately 70 ladies (both young & elderly) attended this program and took benefit from the informative and spiritually uplifting talk of our honorable speaker, Mrs. Sumaira Faisal (President Minhaj Women & Sisters League Europe).
The aim of this convention was to reflect on and revive our bound with teachings, message and person of Shaykh-ul-Islam. Also, the main speaker spoke about the importance of Minhaj-ul-Quran in this era and reflected on how much time and effort the people are spending in spreading the message of peace, love and interfaith dialogue.
Sister Tabinda Mahmood welcomed everyone and thanked the audience for participating in this program. The program started with recitation of the Quran by Mrs Aisha Nazir Ahmad Qadri and the beautiful Qasida Burda Shareef was presented by all sisters.
After this the participants watched an inspirational speech of Dr Hassan Mohiuddin Qadri on the topic of "Mansab-e-Shaykh-ul-Islam"
After that some sisters and women shared their experiences on how they became life member, what their drive is to work for MQI and about their spiritual bond with Shaykh ul Islam.
After this session, Mrs. Sumaira Faisal (President Minhaj Women & Sisters League Europe) explained the aim & objectives of Minhaj ul Quran, the life membership and the importance of a Wali/Shaykh/Sohabh.