Workers Convention held under banner of MQI Sialkot
Minhaj-ul-Quran International (Sialkot chapter) organized workers convention on March 9, 2013 in Anwar club. PAT President Dr Raheeq Abbasi was the chief guest on the occasion. PAT leaders Haji Walayat Qaiser and Amir Yousaf were also present on the occasion.
The Convention was also attended by representatives of different trade bodies and people belonging to other walks of life. Those present on the occasion included Ch Muhammad Aslam Kutyara, Haji Muhammad Naseem Jamati (Jasfson Group of Industries), Haji Sarfraz Ahmad Ch (Chairman All-Pakistan Surgical Association), Muhammad Salim Butt (senior vice chairman All-Pakistan Flour Mills Association), and Ihtasham Mahmood Malik (Progressive Marketing Network). MQI workers attended the convention in their large numbers.

In his address, Dr Raheeq Abbasi presented an overview of political situation in the country. He said that the ECP had taken a backseat under pressure from the vested interests, while the ruling party was busy preparing for elections on the same old lines with complete support of friendly opposition. He said that the vested interests were fully exploiting the corrupt system to their advantage. He said that PAT and MQI would not allow the politics of deal making to play havoc with the country.
Dr Abbasi said that unless the people rose up, there was nothing which could be done to change the corrupt system. He asked the people of Sialkot city to join hands with Dr Tahir-ul-Qadri and attend the public meeting in Rawalpindi on March 17.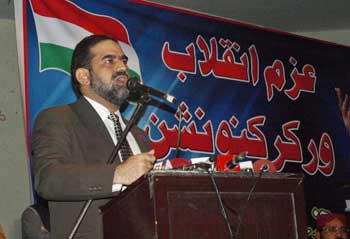 Dr Raheeq Abbasi paid a rich tribute to the workers of Sialkot city for their contributions and steadfastness. He particularly appreciated the fact that they managed 1500 buses on the occasion of historic public meeting on December 23 in Lahore. He also distributed prizes and appreciation certificates among them. The workers pledged that they would attend the public meeting in Rawalpindi.
The Workers Convention was also addressed by Muhammad Salim Butt, Hafiz Zafar Iqbal, Haji Sarfraz Ahmad Ch, Rashid Mahmood Bajwa, and Mian Muhammad Raza. The convention ended with Dua for the progress and prosperity of people of Pakistan and good health and long life of Dr Tahir-ul-Qadri.