MWF kick-starts relief campaign for flood affectees of Sindh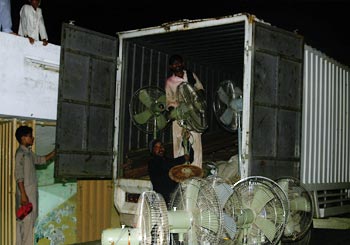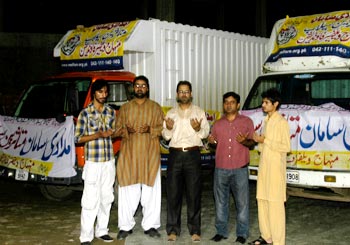 MWF kick-starts relief campaign for flood affectees of Sindh
The torrential rains have hit many parts of Punjab, Khyber Pakhtunkhawa, Sindh and Balochistan in last two weeks. The province of Sindh happens to be the worst hit by these rains, with millions of people rendered homeless, crops washed away and deaths of many people. There are now fears that epidemics are likely to break out in the absence of any effective medical system in the flood-hit areas. Thousands of families affected by rains are stranded along the road sides under the open skies. Minhaj Welfare Foundation, on the special instructions of Shaykh-ul-Islam Dr Muhammad Tahir-ul-Qadri, has launched its relief operations for the rescue and relief of the flood affectees of Sindh.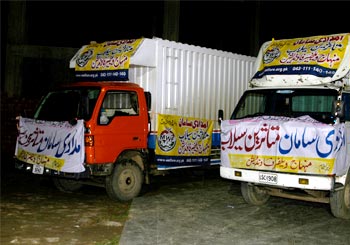 Iftikhar Shah Bokhari, Director of Minhaj Welfare Foundation, expressed these views while talking to media on the occasion of sending truckloads of relief goods to Sindh at the central secretariat of Minhaj-ul-Quran International the other day. He told the media men that MWF is setting up tent settlements in the most affected areas of Badin and Mirpur Khas in the first phase, providing people with make-shift residential arrangements. He said that Minhaj Welfare Foundation would also provide the affectees eatables, water and items of daily use. Qazi Faiz-ul-Islam,Qazi Mahmood-ul-Islam, Muhammad Afzal Ghous, Ahmad Moeen and other leaders of MQI were also present on the occasion.
Iftikhar Shah Bokhari said that central secretariat has passed on the directions to the local chapters of MQI to establish fund collection camps for the flood affectees so that maximum of relief goods could be dispatched to the affected areas. He said that goods of tent settlements and ration are being sent in trucks in the first phase. He said that local administration, army, navy and other organizations were working for people's help but these operations are limited in number and cannot cope up with the challenge. Iftikhar Shah Bokhari appealed to the nation to rise to the occasion and donate generously for the flood affectees of Sindh. He urged people to show the same feelings of selflessness and sacrifice they demonstrated during the floods of 2010.