Mawlid-un-Nabi (S.A.W) Conference in Bhimber (Azad Kashmir)
Minhaj-ul-Quran Women League (Bhimber, Azad Kashmir) organized a prestigious Mawlid-un-Nabi Conference (S.A.W) on March 25, 2012, which was attended by over 3500 female students and women of all union councils of the area. Mohtarma Gulshan Irshad represented the central secretariat and delivered his keynote address on the occasion.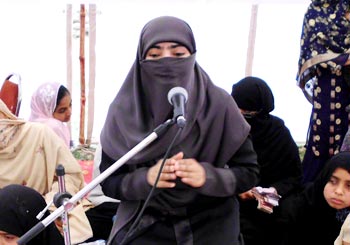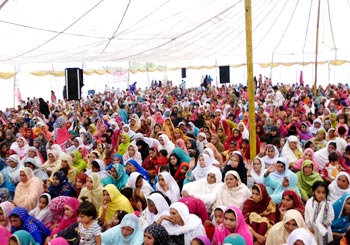 The proceedings of the Conference got underway with the recitation from the Holy Quran a student of Minhaj Girls College followed by presentation of Naats by Minhaj Naat Council who mesmerized the audience with their melodious voices. Ms Zainab Jameel conducted the proceedings of the programme in a befitting manner. Mrs. Zarina (President of MWL Bhimber) presented the welcome address in which she thanked the participants for their attendance.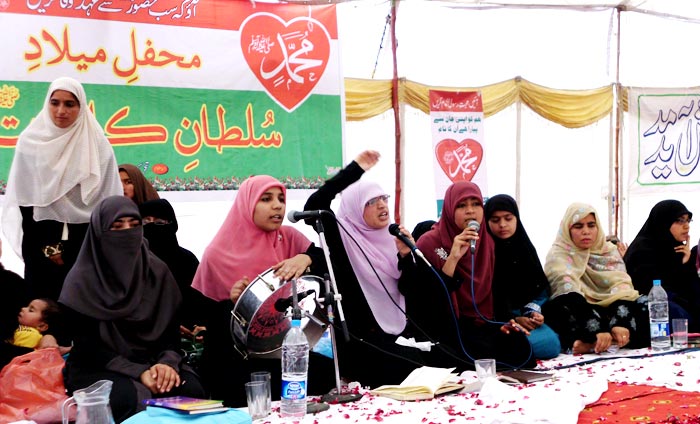 Ms Gulshan Irshad delivered a very argumentative and enlightening talk on the imperatives of respect, reverence and love of the Holy Prophet (SAW). She said that one's faith could never be complete unless one loved the Holy Prophet (SAW) with full devotion. She said that the life of the Companions was practical manifestation of respect, obedience and love of the Holy Prophet (SAW). She further added that the blessed lives of the Companions would continue to serve as beacon of light till Day of Judgment.
Ms Irshad said that the circumstances the Muslim community was passing through owed itself to the fact that we had turned our back on the teachings of the Holy Prophet (SAW). She said that if we wanted to regain our lost glory, then we needed to become embodiment of love of the Prophet (SAW).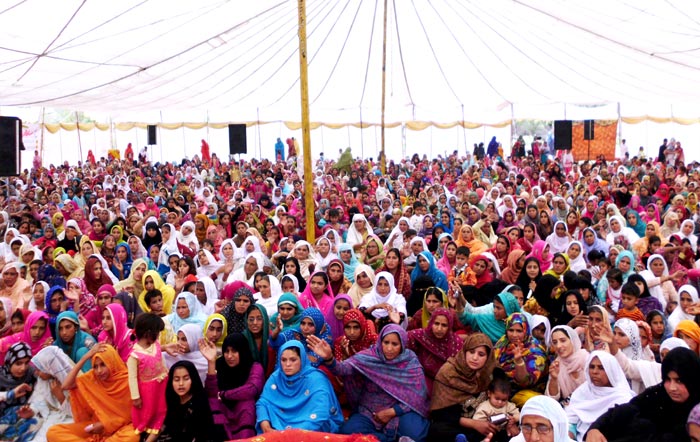 Ms Gulshan Irshad threw light on the services and contributions of Shaykh-ul-Islam Dr Muhammad Tahir-ul-Qadri for the cause of peace, harmony and interfaith dialogue. She told the audience that MQI had decided to celebrate the current year as year of Mawlid-un-Nabi (SAW). She asked the women to join MQI and play their due role in the promotion of positive values and human rights in the society.