Duroos-e-Irfan-ul-Quran (Mandi Bahauddin - Day Two)
The second lecture of five-day series of lectures on Holy Quran was held at Eagle Football Ground Ghoda Bagh on July 23, 2012 under the banner of Minhaj-ul-Quran International (Mandi Bahauddin chapter).
The proceedings of the programme got underway with the recitation from the Holy Quran by Abu Baker Chishti. Minhaj Naat Council of Dhowk Nowan Lok presented Naat in the honour of the Holy Prophet (SAW). Hafiz Shabbir Ahmad and Muhammad Ehsaan Rizvi conducted the proceedings in a beautiful manner. Chaudhry Muhammad Wasim Hammyn was the guest of honour on the occasion.
People belonging to different walks of life such as journalists, bankers, educationists, traders and lawyers attended the programme in their large numbers. Excellent seating arrangements were made for the attendees of the programme.
Allama Hafiz Saeed-ul-Hassan Tahir delivered his lecture on subject of the practices of the Holy Prophet (SAW) during the holy month of Ramadan. He said that Ramadan was an occasion to amass as many rewards and spiritual blessings as one could. He said that one must dedicate oneself to worship of Almighty Lord for His countless blessings on the humanity, and recite the Holy Quran for larger understanding of Islamic dictates. He said that fasting was not about being thirsty and hungry. Rather it was a rare window of opportunity to destroy our ego, and sins. He said that strong relationship with the Holy Quran was a guarantee for establishing strong relationship with the Holy Prophet (SAW).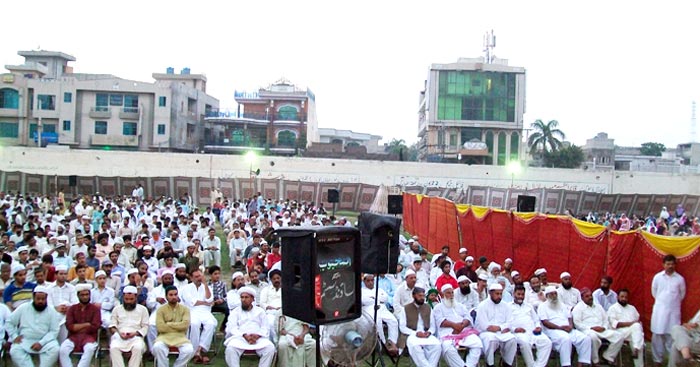 He said that the Holy Prophet (SAW) would make special arrangements for worship during the holy month of Ramadan. He would also sit for Itikaf for ten days. Allama Saeed said that it was in compliance with the same practice of the Holy Prophet (SAW), that MQI had been arranging 10-day Itikaf each year in which hundreds of people including women would take part. He said that the chief highlight of the annual mega event were the special lectures of Shaykh-ul-Islam Dr Muhammad Tahir-ul-Qadri.
The programme ended on dua of Allama Saeed-ul-Hassan Tahir.