Hussain (AS) is symbol of love & peace & Yazid of terrorism & hatred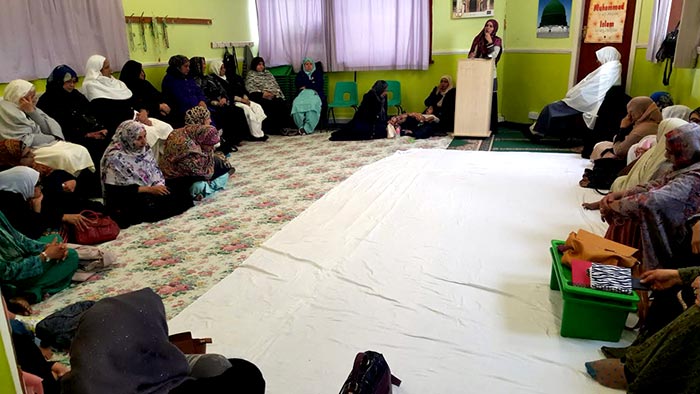 With the Grace of Almighty Allah, Minhaj Women League Nelson organised a ten-day Halqa-e-Muharram from the 14th October to the 23rd of October at Minhaj-ul-Quran, Carr Road Nelson. The ten-day Muharram Study Circle event for women was hosted by Sister Ghulam Fatimah (President MWL, Nelson). These Muharram Study Circles were replicated across all Minhaj-ul-Quran Centres. On the first day of the programme approximately 25 sisters were present in the audience. These numbers slowly increased in the following days that the programme was held to 30, 40, 60, and approximately 100 people were in attendance in the last few days of the ten day event.
Each of 2-hour long programmes followed a pattern, commencing with the recitation of the Holy Quran for the first hour in congregation by all participants. On each of the days, heart touching Manqabats portraying the sacrifices by Hazarat Imam Hussain (RA) and the Prophet's family were recited by Sister Shazia, Sister Rizwana, Sister Shagufta and Sister Shakeela. Salutations and blessings were bestowed upon our Holy Prophet Muhammad (SAW). Following this the entire audience continued to involve themselves with a melodious recitation of Qaseedah Burdah Shareef.
Sister Saima (MWL Dawah Secretary Nelson) engaged with and touched the hearts of the entire audience with her regular extremely emotional speeches in light of the Quran and Hadith, on the unfolding of the tragic events of Karbala. She highlighted stage by stage as to how the family of our Holy Prophet's (Peace and Blessing upon him) sacrificed their lives in Karbala in the name of Islam. Hazrat Imam Hussain's (RA) refusal to accept allegiance to the corrupt standards of Yazeedi dictatorship sets a powerful message that saved Islam. She emphasised that similar corrupt and oppressive Yazeedi activities can be identified even in today's modern society. However Hussainiyat would remain alive till eternity just as Yazeediyat would forever remain defeated as Hazarat Imam Hussain (RA) represents peace, patience and brotherhood whereas Yazeed will forever remain an embedded symbol of evil and oppression.
Sister Saima informed the listeners about the aims of the world renowned founder of Minhaj-ul-Quran International, Shaykh-ul-Islam Dr Muhammad Tahir-ul-Qadri. She stated that Minhaj-ul-Quran is a global movement that promotes peace, harmony and aims to revive the faith in today's challenging times. She invited the ladies to attain membership of Minhaj-ul-Quran which would help change their lives in a positive way.
Host Sister Ghulam Fatimah invited the audience to participate and benefit from the Halqa-e-Darood Mehfils that are held at the Carr Road centre every Monday morning from 11am till 12.30 pm and the Tajweed Quran classes that are run every Tuesday and Wednesday afternoon from 1pm till 2pm. Sister Ghulam conveyed her congratulations to Minhaj Women League Nelson for their continuous hard work in helping to co-ordinate such events for the benefit of women in Nelson and surrounding towns. Likewise the audience also conveyed their congratulations to MWL Nelson in presenting such an event to remember martyrs of Karbala.
Towards the end of the event on each day dhikr was recited. The programmes concluded with Salat-o-Saalam in congregation followed with Duaa. On the tenth day of Ashura the Duaa concluded the event by presenting recitation of Quran twelve times. Five hundred thousand Darood Paak, three hundred and seventy five Surah Yaseen, two hundred recitations of Surah Kauwther and a countless number of Kalimah Tayaibah were recited.
A book stall consisting of Shaykh-ul-Islam Dr Tahir-ul-Qadri's books and CDs was set up at one side and the attendees were encouraged to buy books or listen to the free CDs that were available. The audience was provided with packed food which was prepared by different members of MWL Nelson on each of the first ten days of Muharam-ul-Haram.