Ten-day summer camp under Eagers concludes in Mandi Ahmadabad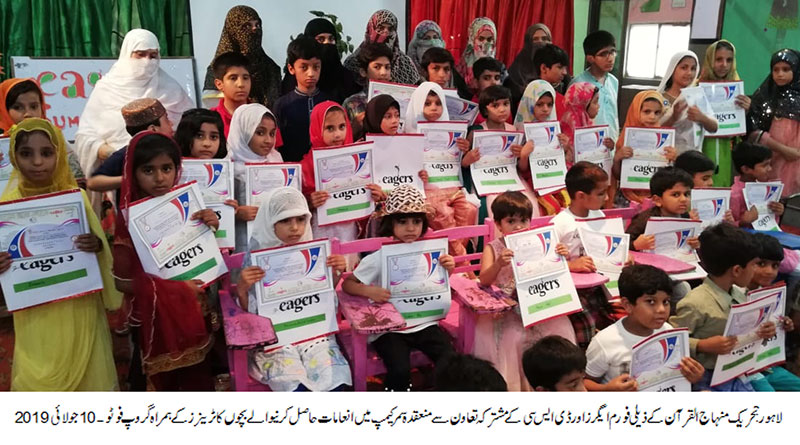 The Eagers, the subsidiary forum of Minhaj-ul-Quran Women League, arranged a ten-day summer camp for children in Mandi Ahmadabad (Okara). The prize distribution ceremony was held on July 10 with the cooperation of a local school in which forty children from the class one to class five participated. Central Secretary Information Noorullah Saddiqui was the guest of honour in the ceremony who distributed appreciation certificates among the children who successfully completed the course.
Addressing the ceremony, Noorullah Saddiqui said that imparting moral training to the children is the responsibility of the parents. He said that the MQI has designed training and educational programmes for children as well as the adults for their character building and moral and spiritual training. He said that the Eagers is one such forum that has been set up specifically for the training of the children, adding that this forum has been holding workshops successfully throughout the country.
Ms. Hafsa Badar said on the occasion that the MQI is focusing its attention on reforming the conduct of the people. She said that the character building is a prior area of attention. She said that if the parents want that their children should grow into useful citizens of the country, then they should pay their attention to their upbringing and moral training from childhood.
Muhammad Sanaullah, Raheel Ahmad Jahangir, Syed Asghar Ali Shah, Rao Umar Farooq, Mirza Ghazanfar Baig, Muhammad Aslam Wattoo and Shabbir Babar also spoke on the occasion.
The lectures on different aspects of Islam and good citizenship were delivered during the ten-day summer camp. The children were encouraged to participate in practical exercises to show their learning. The organizers congratulated the parents on their children's successful completion of the courses. The parents expressed their happiness and said that in the age of computer and games, it is highly significant that such workshops are held to teach kids about mannerism. They thanked Dr Tahir-ul-Qadri and the administration of Eagers for this wonderful initiative and hoped that these workshops will continue to take place in the future as well.