Shaykh-ul-Islam Dr. Muhammad Tahir-ul-Qadri appreciates MWL for excellent performance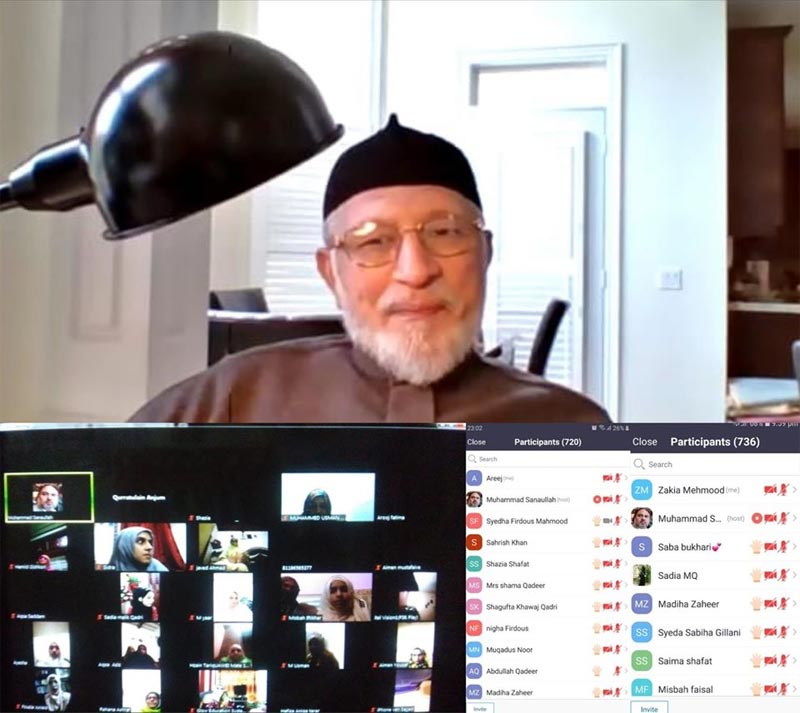 Shaykh-ul-Islam Dr. Muhammad Tahir-ul-Qadri presided over an exclusive session of Minhaj-ul-Quran Women League which was attended by around 700 office-holders from across the country. Nazim-e-Aala MQI Khurram Nawaz Gandapur and Vice President MQI Brig. (r) Iqbal Ahmad Khan were also present on the occasion and shared their valuable thoughts on the efforts of the MWL Pakistan team.
The session was an interactive and a tarbiyah sitting in which all zones of Minhaj-ul-Quran Women League presented their working reports briefly.
These zones include KPK, Karachi, Lahore, Central Punjab, North Punjab, South Punjab and Azad Kashmir. The reports were presented by their respective zonal heads. MWL departments heads of MSM Sisters, Social Media, Eagers, Irfan-ul-Hidayah, Dawah, and Dukhtaran-i-Islam also presented brief reports. Shaykh-ul-Islam appreciated their working and was pleased to hear such penetration of MWL's working across the lengths and breadths of Pakistan.
Shaykh-ul-Islam gave pieces of beautiful advice in his talk during the session and said that commitment to mission requires a continuous attachment with the working and unless it is uninterrupted, one cannot stick to the commitment made with the mission. He advised that one has to undergo difficult situations in life and hindrances can disrupt our commitments but such situations are a test that needs to be dealt with steadfastness and wisdom.
While concluding his talk, Shaykh-ul-Islam congratulated President MWL Pakistan Farah Naz, Nazima Sidra Karamat, and the whole team for doing a wonderful effort on reaching out to various segments of society. He said that the daughters are his pride and no one can beat their firm belief and commitment with the cause and mission of the Holy Prophet (PBUH).
While appreciating the efforts, he said, on a lighter note, that neither do my daughters take rest and nor they let others rest. He extended his heartiest prayers and good wishes to all the office-holders, affiliates, and members of the Minhaj-ul-Quran Women League.