MQI's worker Farooq Ahmad Khan martyred
Unidentified people entered into the house of president MQI Dera Ismail Khan, Farooq Ahmad Khan and opened fire on him, which caused his martyrdom. The brother of the martyr also sustained injuries and is under medical treatment in a local hospital.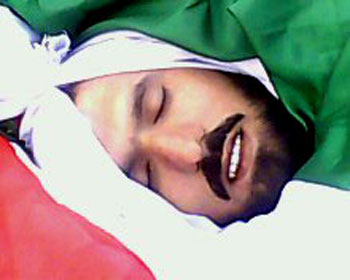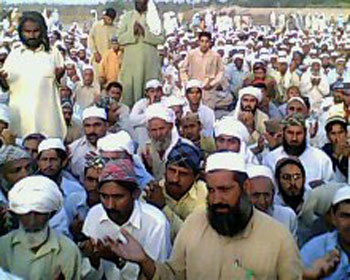 The funeral prayer for the martyr was offered in his native village Putiayala, Tehsil Pehard Pur on June 24. A delegation of MQI comprising Sajid Mahmood Bhatti, Amjad Hussain Jutt, Amjad Ali Shah from Peshwar, Zia-ur-Rehman and Mushtiaq Ali Khan from Hazra participated in the funeral prayers. Besides local notables and representatives of political, religious and social organizations and general people in a large number, leaders and workers of MQI Dera Ismail Khan also attended the funeral prayer.
According to people who attended the last prayers, they did not see such a huge gathering of participants before. The dead body of the martyr was covered in the flag of Minhaj-ul-Quran International. Durood Sharif was continued to be recited during the last and final journal of the martyr. Addressing the people at the occasion, Sajid Mahmood Bhatti mentioned the services of the Shaheed for MQI and paid him glowing tribute. He said that the Shaheed was the identification of MQI in Dera Ismail Khan. There was not any area or locality of DI Khan where the Shaheed did not go and set up body of MQI. He would always remain in constant struggle of rendering his services for MQI. He demanded of the government to apprehend the perpetrators of this horrible crime and bring them to justice at the earliest.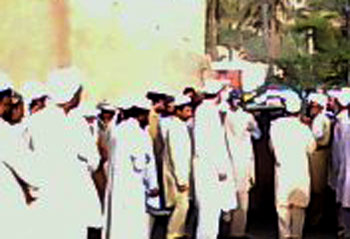 Acting Secretary General of MQI, Sheikh Zahid Fayyaz, phoned the brother of the Shaheed and local members of MQI and condoled with them the death of Farooq Ahmad Khan. He said that his martyrdom was a great loss to Minhaj-ul-Quran International, which has been deprived of such a dedicated worker and leader. Central leaders including G.M. Malik, Ahmad Nawaz Anjum, Mian Abdul Qadir Qadri, Dr Shahid Mahmood, and Bilal Mustafvi have also expressed their deep grief and sorrow over the sad demise of Farooq Ahmad Khan. They prayed to Allah Almighty to rest the departed soul in peace.