MQI worker from Kamalia donates his home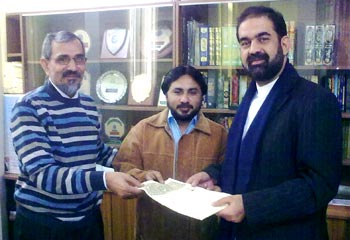 Muhammad Hussain Hashmi and his wife from Kamalia city of Punjab, a life member of Minhaj-ul-Quran International, donated their newly constructed home for MQI. They handed over the registry along with the transfer letter to Dr Raheeq Ahmad Abbasi in a small ceremony held in latter's office. Muhammad Mustafa (G.M. Malik); Principal Secretary to Shaykh-ul-Islam, was also present on the occasion.
Dr Raheeq Ahmad Abbasi congratulated Muhammad Hussain Hashmi and his spouse and appreciated their spirit of sacrifice for donating their house for MQI. He said that workers of MQI were its real asset. This is a gift from MQI worker which would be used by local organization of MQI for its office work.
The construction work of Minhaj-ul-Quran Islamic Centre Kamalia is underway at a great speed. Minhaj Welfare Foundation UK had donated one million rupees for the construction of this Centre whose cheque of second installment of 0.5 million rupees was handed over to Dr Asghar Javed, member of local chapter of MQI by Muhammad Mustafa (G.M. Malik). The office bearers of MQI Kamalia thanked MQI Pakistan and Minhaj Welfare Foundation UK for taking interest in the construction work and cooperation.