Eid with flood victims: The diary of a worker
by Abdul Jabbar (MinhajCDs FSD)
I like my mother got also worried over the cancellation of Itikaf this year. When I sought my mother's permission for going to the flood hit areas, she immediately allowed me to go. I could not sleep out of sheer happiness for being able to help our brethren in distress. My mother saw me off by kissing my forehead early next morning.
Minhaj Welfare Foundation Faisalabad had already dispatched relief goods of worth Rs. 15 million rupees to Muzaffargarh, Rojhan Jamali, Kot Sultan, Layyah, and Rajanpur but this time round, these relief goods were being sent to the flood victims as Eid gift to share their grief on the special instructions of Shaykh-ul-Islam Dr Muhammad Tahir-ul-Qadri.
This relief caravan was on its way to Rajanpur, a city of Southern Punjab under the leadership of Mian Muhammad Kashif, president of MYL Faisalabad. Owing to poor security situation in the flood hit areas, a caravan of 4 trucks along with 20 member delegation left for Rajanpur one day ahead of Eid. The delegation consisted of Khalil Ahmad Gujjar, Manzoor Hussain Sandhu, Sheikh Sohail Sikandar, Owais Ahmad Kamoka, Abdul Jabbar, Abdul Basit, Muhammad Shahid Jutt, Muhammad Naveed Salim, Waseem Kamoka, Hussain Raza, Mudassar Farooq, Imran Mubarak, Shabbir Doager, Ali Raza, Muhammad Rizwan, Sheikh Waqas, Muhammad Saleem and others.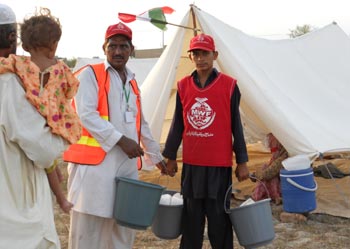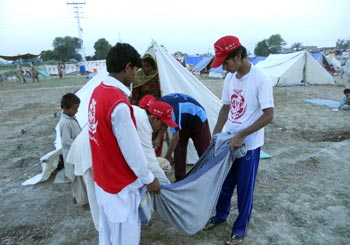 Relief goods of worth Rs. 3 million loaded on to trucks were donated to Minhaj Welfare Foundation by UK-based welfare organization Eman Trust for further distribution in the flood hit areas. The reason of entrusting this responsibility to Minhaj Welfare Foundation is its transparency and honesty. Previously, Eman Trust handed over the relief goods to an official organization for disbursement in the flood affected areas but instead of reaching the flood victims, these goods were sold in the local market. Therefore, instead of depending upon any governmental organization, Eman Trust chose Minhaj Foundation as a collaborator for its operations in the flood hit areas. The management of the Trust has offered to give three mobile hospitals to Minhaj Welfare Foundation for installation in the flood hit areas. The medicine and teams of doctors would also come from UK.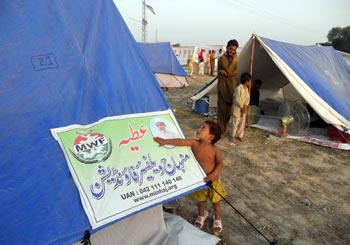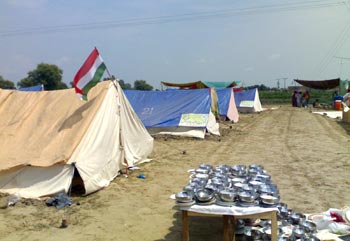 September 9, 2010 (Thursday)
We started off packing of the relief goods one day ahead of our journey on September 9. We were to pack everything of need for 1700 families. We put all things in huge sacks which consisted of 10 kg flour, 2 kg sugar, one kg rice, 2 kg ghee, 2kg pulses, salt, pepper, match boxes, milk packs, sops, and bottles of clean drinking water. The packing which started on September 9 continued until the Juma prayers next day.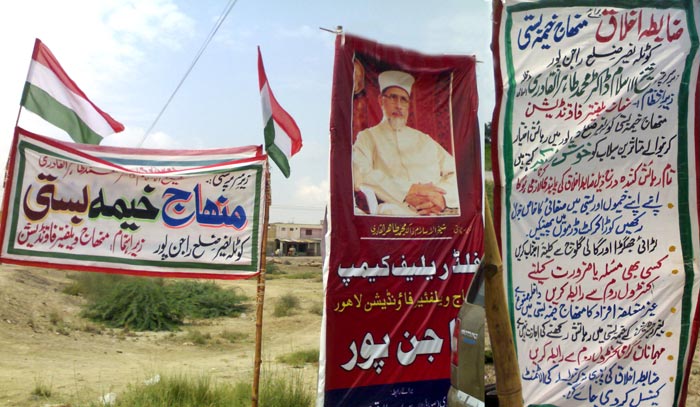 September 10, 2010
After completing packing of relief goods, we offered our prayers of last Friday of the holy month of Ramadan and started our journey from press club at 4 pm. Express News TV covered the caravan. At 5:30 p.m., we left for Rajanpur from Faisalabad. We broke our last fast of Ramadan in a town 'Sidhar' on the Jhang raod. We had our dinner at a place called 'Atthara Hazari' and spent the entire night journeying.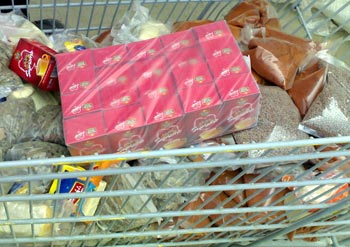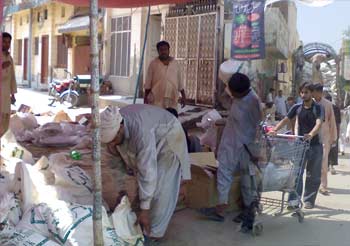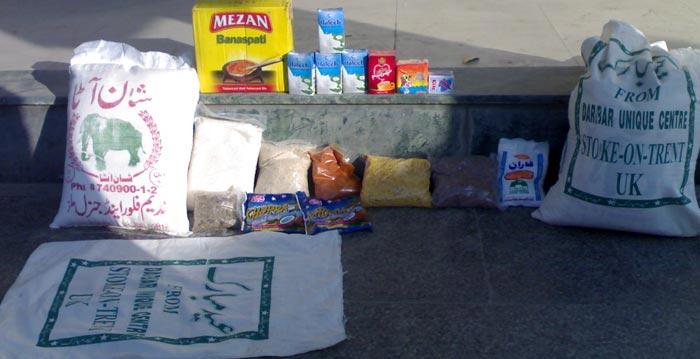 September 11, 2010
We took our tea at a bypass of Muzaffargarh and offered our Eid prayers in Dera Ghazi Khan. We started off next phase of our journey towards Rajanpur after offering Eid prayers. Passing through Fazilpur and Jampur, we finally reached Rajanpur around 12:30 pm.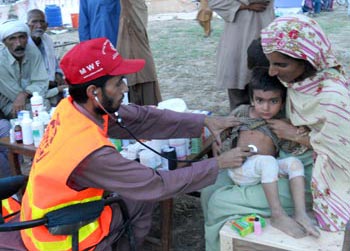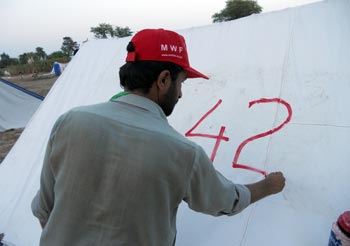 While we had reached the first check post 50 km ahead of Rajanpur, the police officials deputed there forbade us to go ahead due to deteriorating law and order situation. They agreed to provide us security till Rajanpur. The police of every area would join us after a travel of a few kilometers and the escorting police would return to their area of duty. One van of Minhaj Welfare Foundation Lahore also joined us which was carrying relief goods to Minhaj Tent Settlement Kotla Nasir.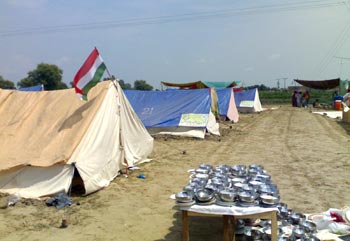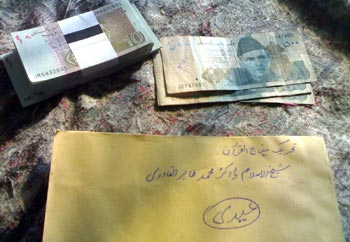 We reached Rajanpur at about 12:30 pm where we were received by Sardar Shakir Mazari, District Coordinator of Minhaj Welfare Foundation and his team. They hosted lunch for us and made us lodge in a local hotel for rest.
Fresh teams of local organizations of Minhaj Welfare Foundation were already ready to join us for carrying the relief goods to the affected areas. One truck loaded with 555 bags was sent to Rojhan, which was the worst of the floodhit areas . After separating relief goods for Minhaj Tent Settlement Kotla Naseer, the rest of the goods were dispatched for the affected areas of Rajanpur such as Jampur, Fazilpur, Muhammad Wala, Karam Dad Qureshi and Koat Mitthan etc.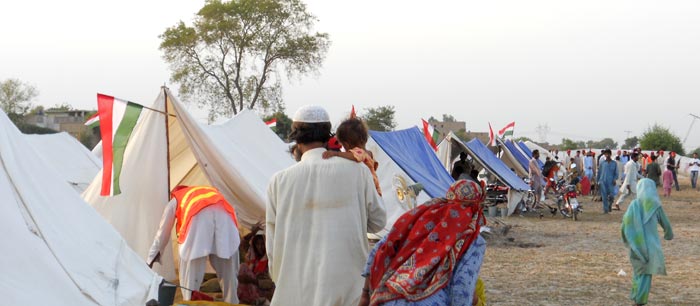 September 12, 2010 (Sunday)
After taking breakfast, the entire team paid a visit to Minhaj Tent Settlement Kotla Nasir (Rajanpur). It is an ideal settlement of the area where more than 100 tents have been installed that house more than 600 people.
A team from central secretariat was also in the Tent Settlement on that day. We had a chance of meeting Raja Jamil Ajmal who was heading the Lahore delegation. He has recently come to Pakistan after spending 20 years in Saudi Arabia. The flood affectees were surprised to hear that he was spending his fist Eid in Pakistan after absence of 20 years and that too with the flood affectees.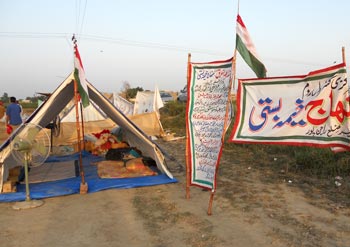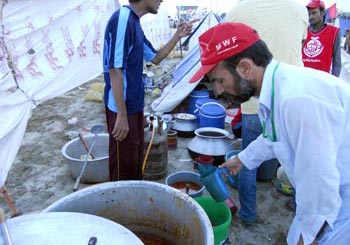 We were very happy to see the arrangements in the Tent Settlement. Every settlement has been provided with a pedestal fan and energy saver. The MWF's volunteers themselves cooked food and distributed it among the people three times a day. The families having children are given milk additionally. A dispensary has also been set up to cater to the medical needs of the flood victims. Separate wash rooms have been constructed for male and female people besides a small Mosque for prayers. The educated among the flood affectees have been entrusted with the responsibility to impart education to small children within the settlement so that education of children does not get affected. Necessary books have also been made available for the children.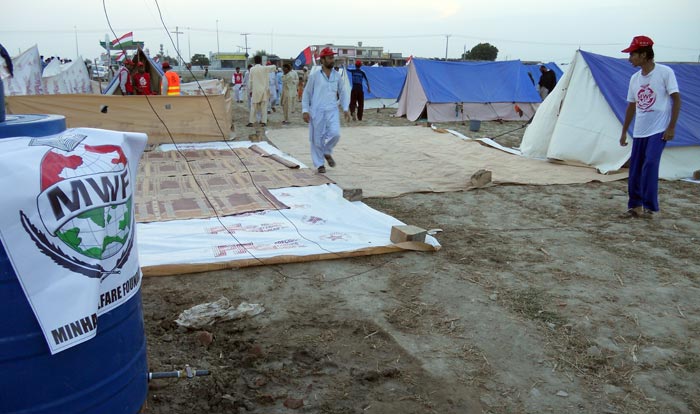 Different activities continued in the tent settlement on the Eid day. Different programs were held for children. They showed their enthusiasm and won prizes on giving correct answers to the questions. Indoor competition was also held and position holders were given prizes. Likewise, 'mehndi competition' was also held among the small female children.
A police official deputed there said that he had already served at different tent settlements where people had to go through a maze of problems to get food, etc. but he was pleased to see excellent arrangements in the Minhaj Settlements, where people are being provided with all necessary things through decent manner. He said that he was impressed by the manner Minhaj Welfare Foundation distributed relief goods among the people, safeguarding their sense of self-respect.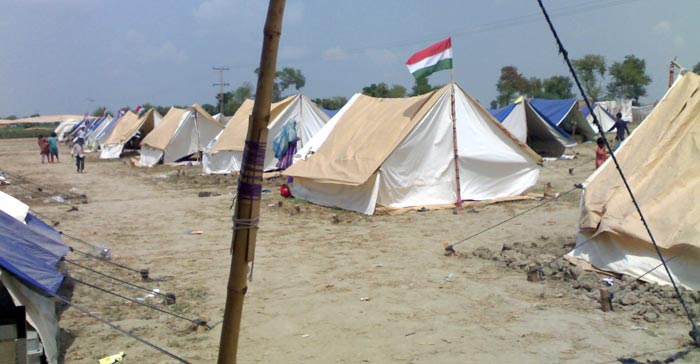 The views of one elderly person brought tears in everyone's eyes when he paid glowing tribute to Shaykh-ul-Islam Dr Muhammad Tahir-ul-Qadri and Minhaj Welfare Foundation for taking care of hundreds of thousands of people affected by the floods. He prayed to Allah Almighty for special favours on him and his organization. Amir-e-Lahore Muhammad Irshad Tahir surprised everyone when he said that since no labour was without any compensation, therefore, he looked forward to compensation from the flood affectees. He further explained that his compensation was that when people left for their homes from these tent settlements, they should send Durood on the Holy Prophet (saw).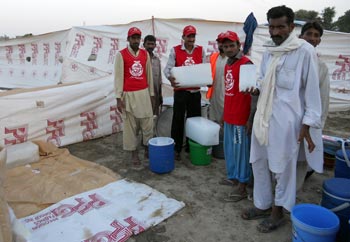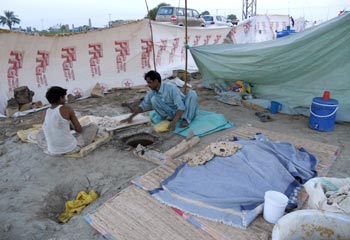 As long as we stayed there, we saw all faces radiating happiness and contentment. No child was found weeping, nor was anyone looked worried. All of the residents of tent settlements were happy. They were sure of the fact that these workers and volunteers of Dr Muhammad Tahir-ul-Qadri had done everything to fulfill their needs in the tent settlements and they would not leave us in the lurch once we went to our homes.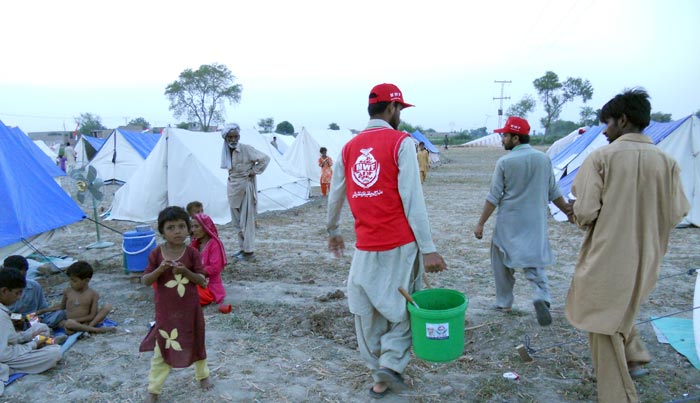 I also distributed Eidi among the children from my own pocket. Other volunteers from Faisalabad also distributed Eidi and gifts among the children out of their pockets.
We left Rajanpur after farewell meeting with the management of tent settlement. We spotted a small Minhaj Tent Settlement on our way to Kot Mitthan at the corner of Qadirabad canal. We held a meeting with the flood affectees and distributed relief goods among them.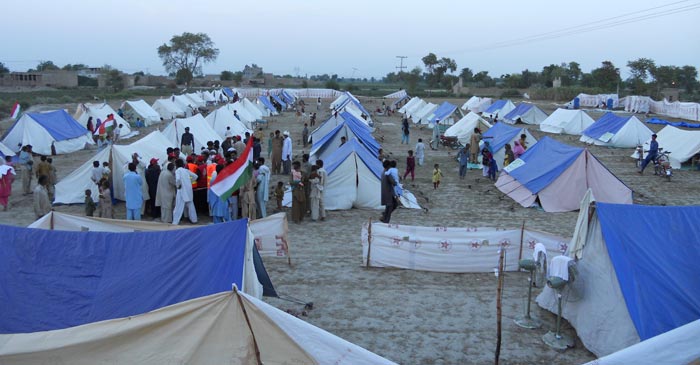 Upon reaching Kot Mitthan, we paid our respects to Hazrat Khawaja Ghulam Farid. Muhammad Owais Raza read out Kalam of Khawaja sb, which electrified the audience. We were also blessed to have met with Sajjada Nasheen Khawaja Moeen Koereja. He individually embraced everyone of us, saying "you people are my family" when he was told that we are from MQI. We also visited museum where the relics of Khawaja Ghulam Farid were displayed.
At 7 p.m, we left for Faisalabad and reached here on September 13.