The Holy Prophet's (PBUH) teachings guarantee success in both the worlds: Dr Hassan Mohi-ud-Din Qadri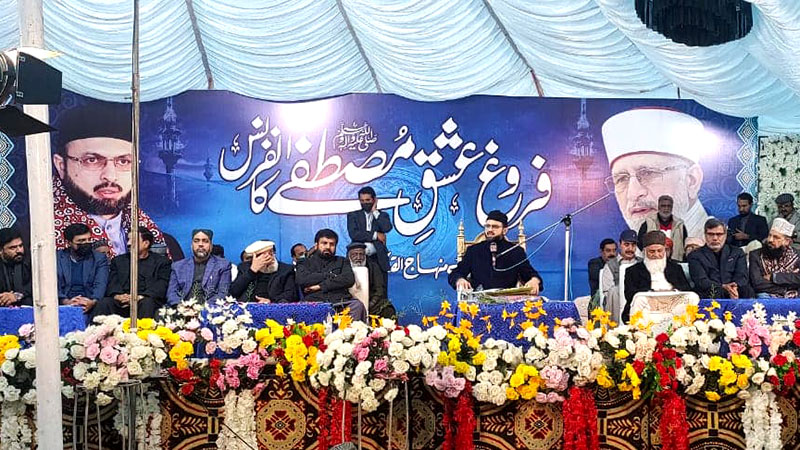 Addressing a "Farogh-e-Ishq-e-Mustafa (PUBH) Conference" in Faisalabad, Chairman MQI Supreme Council Dr Hassan Mohi-ud-Din Qadri has said that the Holy Prophet (PBUH) is the last of all prophets and there will be no prophet and messenger after him. He said that our success not only in this world but also in the hereafter lies in implementing his (PBUH) teachings in our lives. He said that his (PBUH) attribute of being mercy for all the worlds is what we need to promote to make this world a hub of peace and tranquility.
The religious scholars attending the Conference greatly appreciated the address of Dr Hassan Mohi-ud-Din Qadri. They said that the speech was full of references of most authentic prophetic traditions. They said that the description of the Holy Prophet's (PBUH) grace with credible references is the mark of distinction of MQI and its leaders.
Pir Syed Saeed-ul-Hassan Shah, Allama Rana Muhammad Idrees, Haji Amin-ul-Qadri, Noorullah Siddiqui, Raja Zahid Mahmood, Basharat Aziz Jaspal, Mian Rehan Maqbool, Mian Abdul Qadir, Mian Kashif Mahmood, Muhammad Iqbal Mustafavi, Qazi Faiz-ul-Islam, Umar Farooq Alvi, Rana Tahir Saleem, Rana Rub Nawaz Anjum, Anilya Ilyas Dogar, and a large number of people attended the conference.