MQI Faisalabad organizes a seminar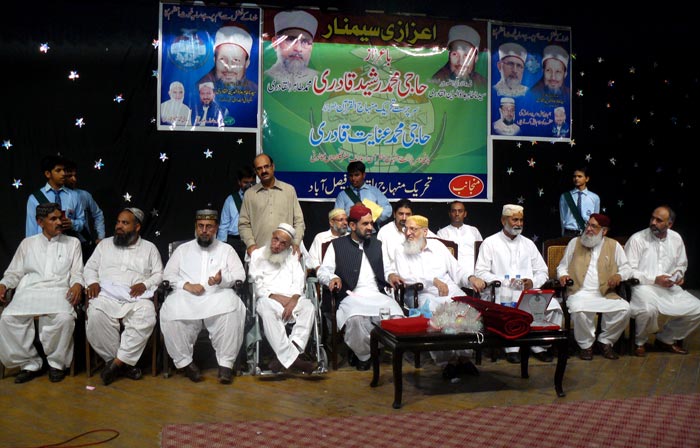 Minhaj-ul-Quran International (Faisalabad chapter) held a prestigious seminar in the honour of Haji Muhammad Rasheed Qadri and Haji Muhammad Inayat Qadri, two companions of Shaykh-ul-Islam Dr Muhammad Tahir-ul-Qadri to mark their educational, religious and welfare services on June 17, 2011 in Nusrat Fateh Ali auditorium. Amir-e-Tehreek Punjab Ahmad Nawaz Anjum presided over the seminar, while Secretary General Dr Raheeq Abbasi was the guest of honour on the occasion.
The distinguished audience included Syed Hayadat Rasool Qadri, Haji Muhammad Amin-ul-Qadri, Engir. Muhammad Rafiq Najam, Rana Ghazanfer Ali, Allah Rakha Naeem-ul-Qadri, Rana Nisar Ahmad Shahzad, Allama Aziz-ul-Hassan Hasani, Mian Kashif Mahmood, Malik Shabbir Hussain Advocate, Noshaba Zia, Mian Abdul Qadir, Haji Muhammad Salim Qadri, Haji Muhammad Ashraf Qadri, Abdul Jabbar Butt, Rana Faisal Ali (France) and Ramzan Qadri (Greece). A large number of community leaders, welfare workers and notables also attended the seminar. The respected guests were given red carpet welcome upon their arrival in the venue.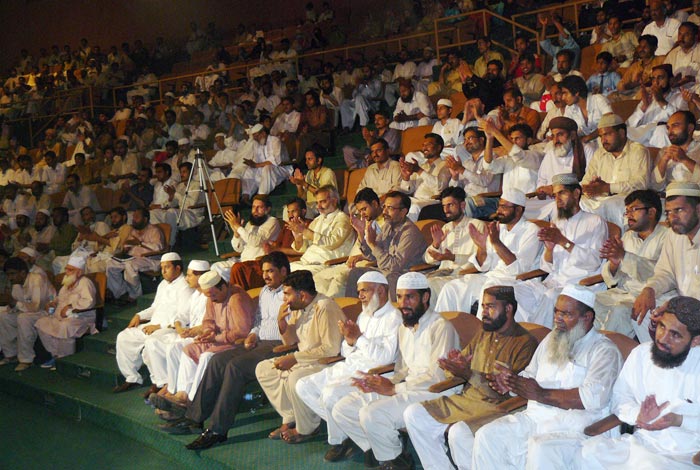 The proceedings of the seminar got underway with the recitation from the Holy Quran followed by Naat. Prof Muhammad Arif Saddiqi conducted the proceedings of the seminar.
Speaking on the occasion, Dr Raheeq Ahmad Abbasi said that the workers of MQI are the champions of love, peace and harmony in the world. They are working for the promotion of these values across continents, he added. Dr Abbasi stated that morality, knowledge and love are the weapons of MQI's workers whose mission is to spread the universal message of Islam for elimination of terrorism and extremism. He asked the workers to make this duty their top priority.
In his speech, Ahmad Nawaz Anjum said that MQI is the biggest movement of the Muslim world thanks to its organized organizational network and its services are being acknowledged globally.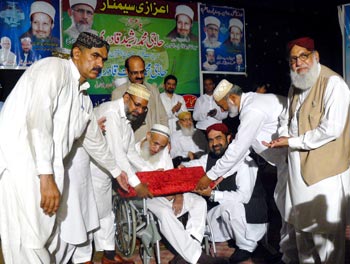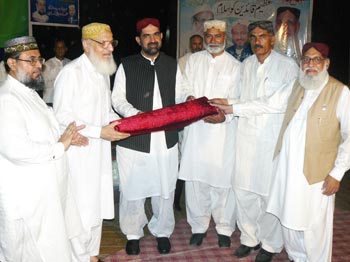 Syed Haydat Rasool Qadri, Amir of MQI Faisalabad, said that Haji Rasheed Qadri and Haji Inayat Qadri are assets for MQI Faisalabad. He said that the workers of MQI hold them in high esteem. The real status of any person in society, he added, is determined by the strength of character and not worldly possessions. He said that scholarly services of both people are beacon of light for the workers. Both respected guests were honoured with shields at the end. The event was a great success and got phenomenal coverage.