Sixth edition of mass marriage ceremony held under MWF Faisalabad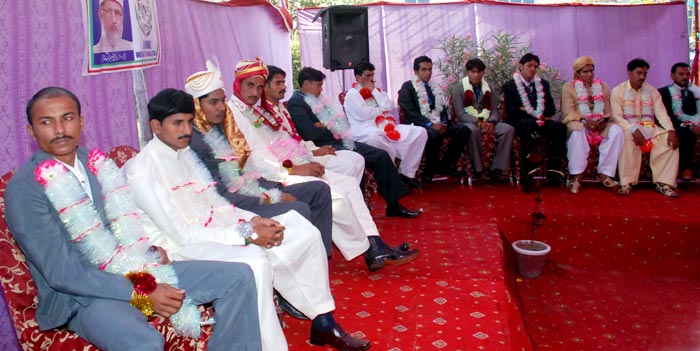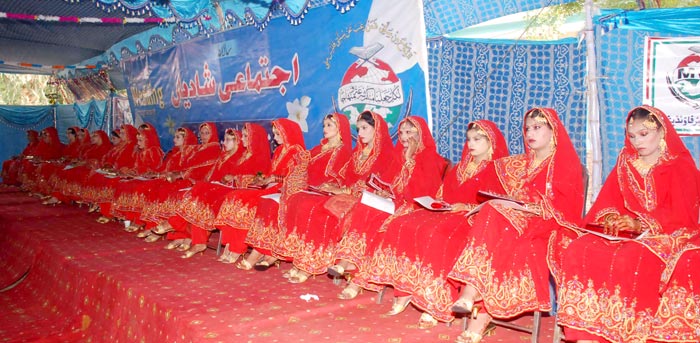 The escalating cost of living, inflation, and fast aggravating poverty has made it well nigh impossible for the less privileged sections of society to marry off their daughters. In these circumstances, Minhaj Welfare Foundation, under the leadership of Shaykh-ul-Islam Dr Muhammad Tahir-ul-Qadri, has been working for the welfare and wellbeing of the downtrodden sections of society for last many decades. It has run its welfare operations not only in Pakistan such as in instances of floods, earthquake and mass marriage ceremonies but has also been at the forefront of relief efforts at the global level.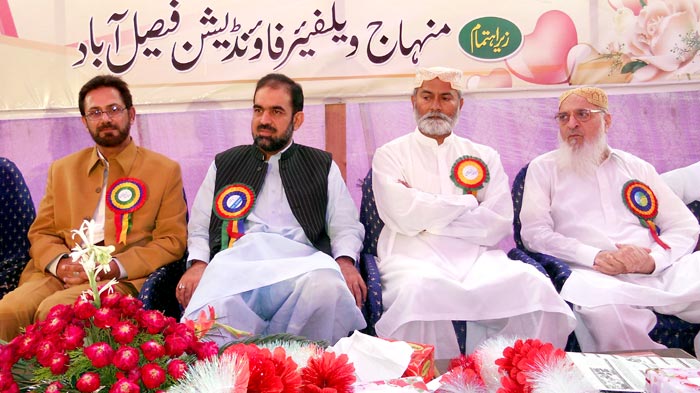 The sixth edition of mass marriage ceremony was held in Zakeria Park, Gulfishan Colony, Faisalabad, under the banner of MWF (Faisalabad chapter) on October 23, 2011. The proceedings of the ceremony got underway with the recitation from the Holy Quran followed by Naat. Qari Sarfraz Ahmad Sialvi and Qari Muhammad Azam solemnized the Nikah, while Allama Muhammad Arif Saddiqi conducted the proceedings in a beautiful manner.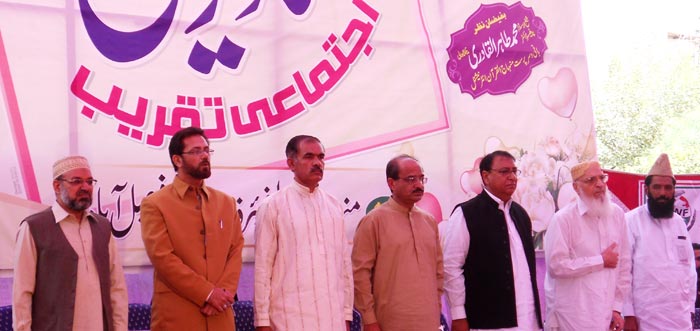 Dr Raheeq Ahmad Abbasi, Secretary General of Minhaj-ul-Quran International, presided over the ceremony, while District Coordination Officer Faisalabad Nasim Sadiq, MPA Rana Muhammad Afzal Khan, Amir-e-Tehreek Punjab Ahmad Nawaz Anjum, MWF director Iftikhar Shah Bokhari were the guests of honour at the occasion. Other leading personalities who attended the ceremony included Allama Muhammad Riaz Kharal, Allama Aziz-ul-Hassan Hasani, Haji Muhammad Amin-ul-Qadri, Allah Rakha Naeem, Mian Abdul Qadir, Mian Kashif Mahmood, Haji Muhammad Rasheed Qadri, Haji Muhammad Arif Baig, Pir Saddiq-ur-Rehman, Haji Muhammad Asghar, Muddasar Farooq, Rana Tahir Saleem, Basharat Ali Jaspal, Malik Shabbir Hussain Advocate, Bashir Ahmad and leaders of various welfare and social organizations of the city.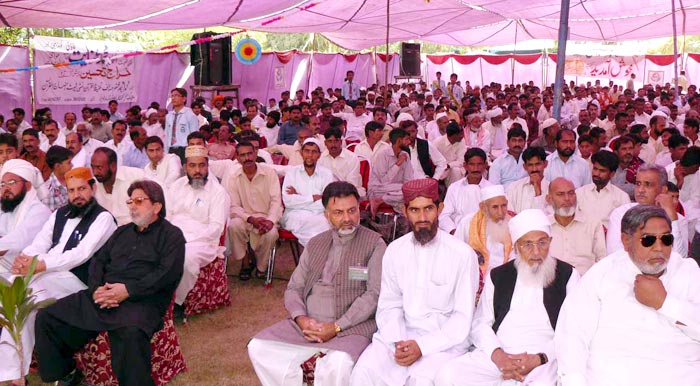 The marriage processions kept coming from 11 a.m. to 1 p.m. that were received warmly by the organizers. The venue was decorated very beautifully in accordance with the demand of festive occasion. Separate seating arrangements were made for both male and female guests. Over 2000 guests were served with lavish marriage feast. Fool-proof security arrangements were put in place on the occasion. Qari Muhammad Amjad Zafar, Rab Nawaz Anjum, Pir Muhammad Sajid, Muhammad Akhtar Khan, Qari Imran Mustafvi, Liaqat Ali, Haji Mushtaq Ahmad, Hafiz Abdur Rehman and the leaders of the Women League were also present to welcome the barats.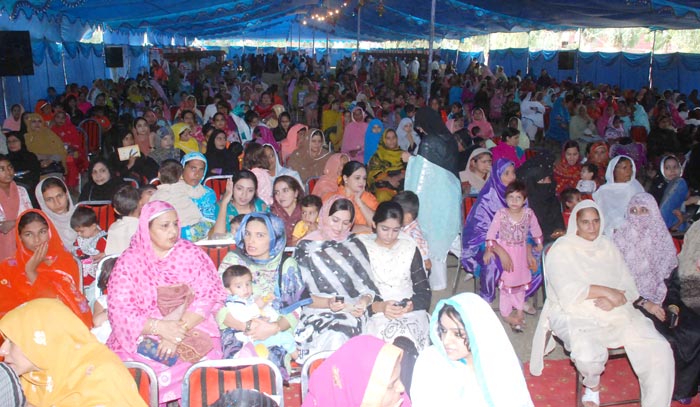 When Haji Muhammad Inayat Qadri, patron of Minhaj Islamic Centre, entered the venue despite serious illness, the participants gave him a standing ovation and paid him rich tribute for organizing six editions of mass marriage ceremonies in the city.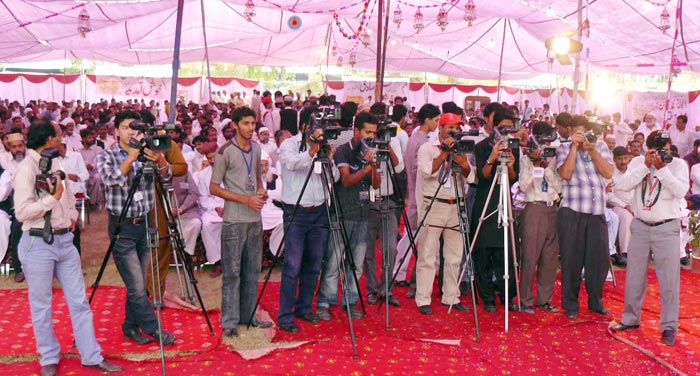 Addressing the ceremony, DCO Nasim Sadiq said that the passion to serve the deserving human beings was the guarantor of human dignity and respect. He said that Islam not only propagates the message of welfare of the underprivileged sections of society but also ordains its followers to come forward and do practical work in this regard. He termed the work of Minhaj Welfare Foundation as worthy of emulation and highly appreciable in view of fast deteriorating social order and value system. He said that he felt privileged to be part of such a welfare ceremony. He congratulated Minhaj Welfare Foundation and its patron-in-chief Shaykh-ul-Islam Dr Muhammad Tahir-ul-Qadri for undertaking great work in the field of health, general welfare and education.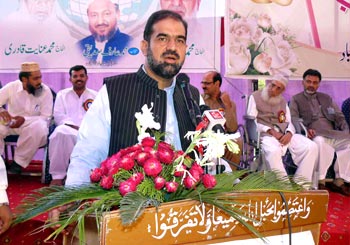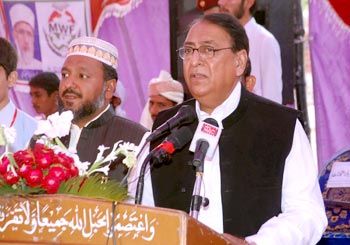 Speaking in the ceremony, Dr Raheeq Ahmad Abbasi, Secretary General of MQI, said that Dr Muhammad Tahir-ul-Qadri has been an advocate of human welfare and equality who imparted lessons to his workers to leave no stone unturned to lessen the miseries of underprivileged people. The performance of MWF under his able and dynamic leadership speaks for itself. He said that MWF remains committed to its avowed goal of working for the welfare of humanity, be it rehabilitation of the flood affectees, or running of hundreds of educational institutions or mass marriage ceremonies. He said that MWF would continue to serve humanity without any discrimination of caste, colour, race and creed.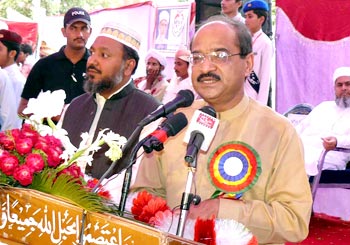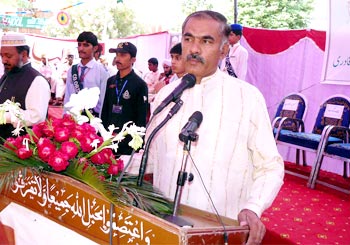 In his speech on the occasion, Engr. Muhammad Rafique Najam said that Dr Muhammad Tahir-ul-Qadri has always talked of rights of people along with rights of Allah. The social service is an important part of MQI's global initiatives. He said that this explains why all chapters of MQI are at the forefront of welfare activities not only in Pakistan but abroad as well.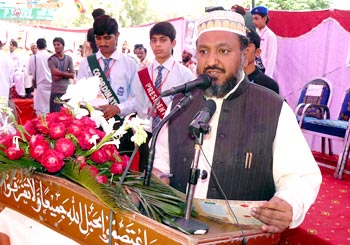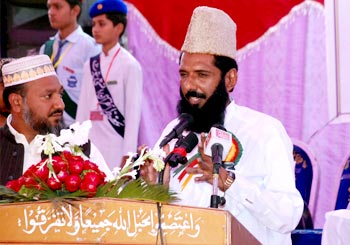 Dr Shahid Dar distributed 'salami' of two thousand for each bride on behalf of international cricket empire Aleem Dar. Every bride was gifted a bridal package of worth Rs 1 lakh, which included Irfan-ul-Quran, Minhaj-us-Savi, double bed with mattress, gas hearth, table, chairs, washing machine, sewing machine, pedestal fan, double bed blanket, tea set, cutlery set, and other things of need. All grooms were gifted wrist watches while the brides were given cash gifts as 'salami'.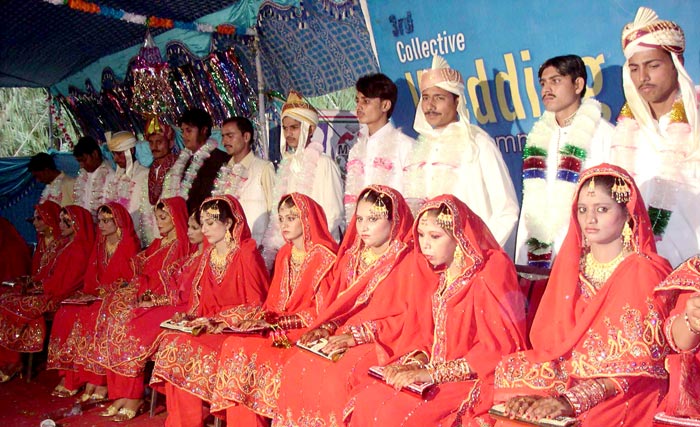 The couples were seen off amid tears and prayers. The parents of the newly wed couples prayed for good health and long life of Shaykh-ul-Islam Dr Muhammad Tahir-ul-Qadri and thanked the organizers for doing the marvelous job. A large number of media representatives were also present to cover the event.