Mass marriage ceremony held under MWF Faisalabad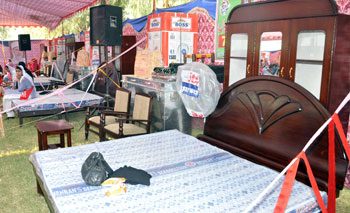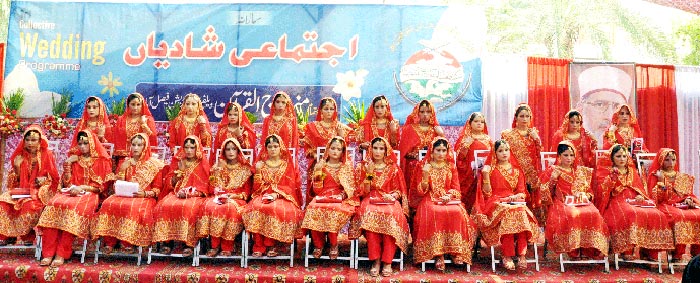 Life has become so difficult for the common man that it is virtually next to impossible for him to make his both ends meet. In his daily struggle to keep his body and soul together, it is well beyond him to marry off his daughters and sisters, given the massive expenditures involved. It has been seen in most of the cases that the girls grow old due to their parents' inability to finance their marriages.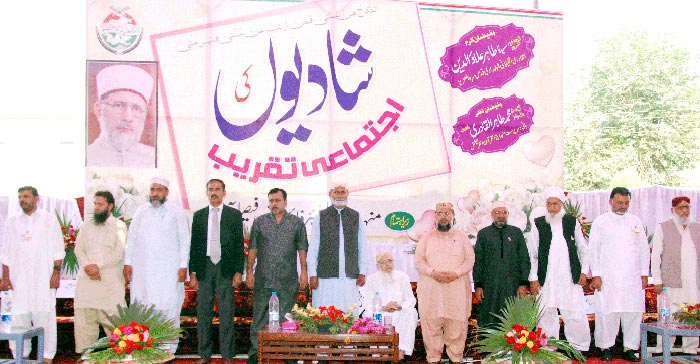 It is in these circumstances that Minhaj Welfare Foundation, a subsidiary of MQI, has been in the forefront of efforts to arrange mass marriage ceremonies, which have regularly been held in different parts of the country. This initiative of mass marriage has been undertaken on the special instructions of Shaykh-ul-Islam Dr Muhammad Tahir-ul-Qadri.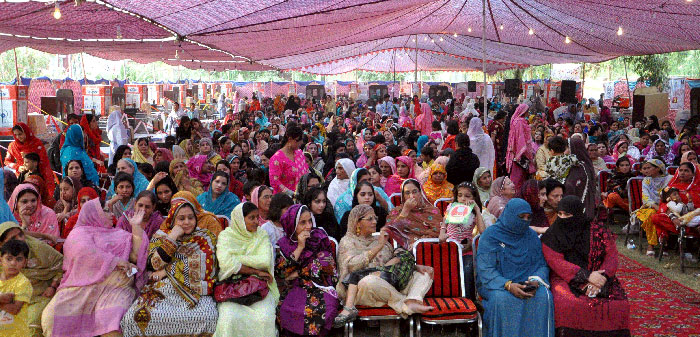 One such mass marriage ceremony of 25 couples was held in Islamic centre located in Gulfshan Colony of Faisalabad under the banner of Minhaj Welfare Foundation (Faisalabad chapter). The participants of marriages continued to pour in till 1 p.m. The venue was decorated very befittingly in accord with the demand of the occasion. Different bands played their tunes to welcome the marriage processions.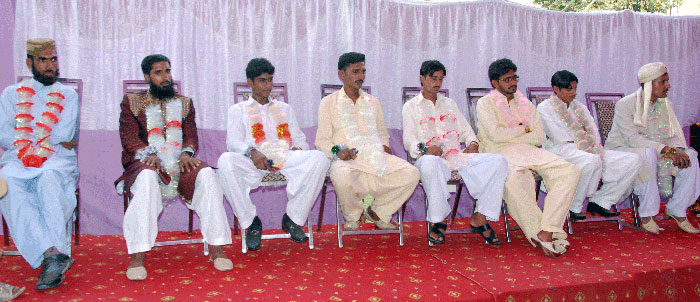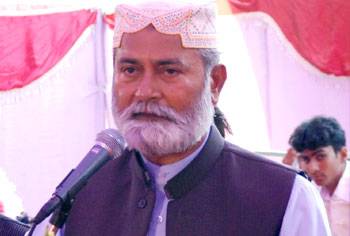 Ahmad Nawaz Anjum, head of MQI Punjab, presided over the ceremony, whereas Syed Hadayat Rasool Qadri, Humayun Abbas Shams, Malik Zafar Iqbal, Muhammad Sabir, Allama Aziz-ul-Hasan Hasani, Mian Kashif Mahmood, Ch Mahmood Alam Jutt, Allama Akhtar Hussain Asad, Rana Tahir Saleem Khan, Haji Muhammad Arif Baig, Sheikh Ijaz Ahmad, Allah Rakha Naeem-ul-Qadri, Haji Muhammad Saleem Qadri, Haji Muhammad Rafique, Haji Abdul Majeed, Haji Amin-ul-Qadri, Haji Muhammad Rashid Qadri, Haji Muhammad Ashraf Qadri, Haji Muhammad Zafar Qadri, Rana Rub Nawaz Anjum and local notables, representatives of various organizations were also present on the occasion.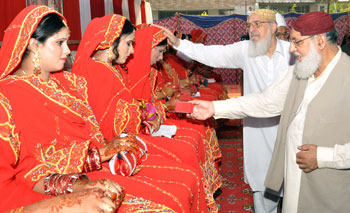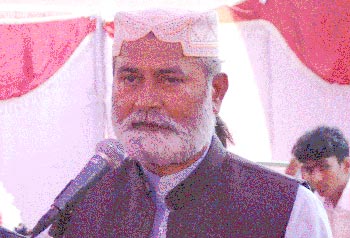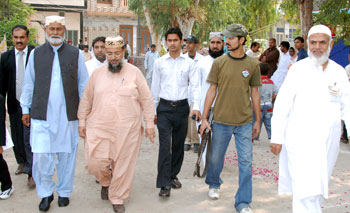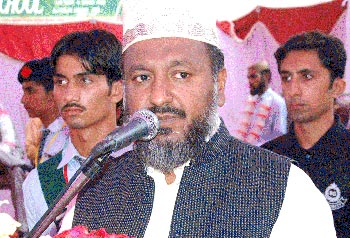 Speaking on the occasion, Ahmad Nawaz Anjum said that Shaykh-ul-Islam Dr Muhammad Tahir-ul-Qadri has had lifelong and unflinching commitment to work for the welfare of the masses. He said that his contributions in educational, religious and welfare fields were worthy of emulation. He said that Dr Tahir-ul-Qadri has rightly proven himself to be ambassador of peace and human welfare. He said that he has been headed on the path of promoting love by eliminating biases and hatred.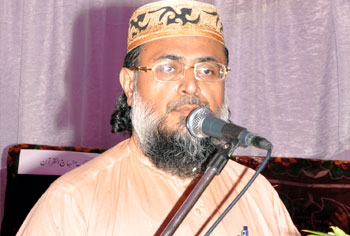 In their speeches, Syed Hadayat Rasool Qadri, Engr. Muhammad Rafique Najam and Allama Arif Saddiqi said that it was our individual and collective duty to share the grief of the poor and downtrodden sections of society. They said that eliminating poverty, hunger, disease, ignorance and backwardness was the Prophetic mission and we should act upon the Sunna of the Holy Prophet (SAW) by committing ourselves to elimination of these scourges, which hold back societal development. They said that Aghosh project initiated by Shaykh-ul-Islam Dr Muhammad Tahir-ul-Qadri has become a role model for other welfare organizations due to transparency of its operations, effectiveness, high quality of education and excellent residential services. They said that MWF, under the leadership of Dr Tahir-ul-Qadri, has always endeavoured to help those in distress. 'Unless we demonstrate brotherhood and a feeling empathy for weaker sections of society and help them stand on their own, we cannot have a welfare society,' they added.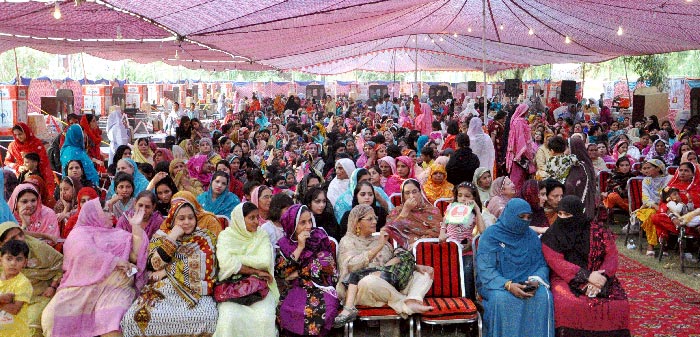 MWF gifted every bride with a gift package of Rs. 1,00,000, which consisted of copy of the holy Quran, prayer mat, cupboard, double bed, chairs and table, sewing machine, washing machine, iron, clock, dinner set, cutlery set, blanket, pillows, water set, tea set, and other items of daily use. Every bride was gifted a gold item and every groom a wrist watch on the occasion.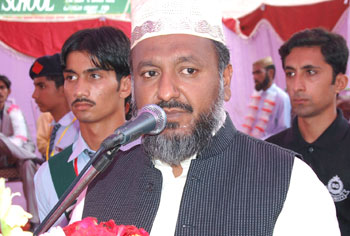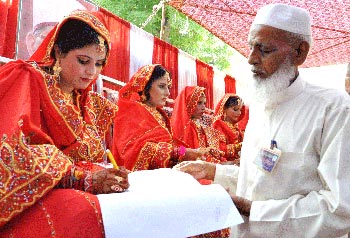 Sarfraz Ahmad Qadri and Qari Muhammad Azam solemnized Nikah of the couples. 2000 guests attended delicious marriage feast later on. The newly weded couples were seen off under the shadow of the holy Quran. The very sight of send-off of brides brought tears to the eyes of the participants. They prayed for good health and long life of Shaykh-ul-Islam Dr Muhammad Tahir-ul-Qadri and paid him glowing tributes for his welfare services.