25 couples tie the knot at mass marriage ceremony under MWF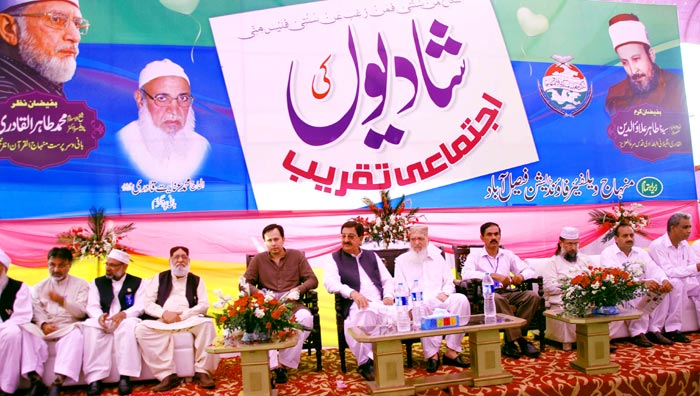 Life has become very difficult for the people with little resources. At a time when making ones both ends meet has become quite a task for the common people, marrying off their sisters and daughters is virtually impossible due to poverty. Hence, it has often been noticed that the girls grow old for want of adequate resources for marriage.
Minhaj Welfare Organization, a sister organization of MQI, has been in the forefronts of efforts to ease the pain of the downtrodden and less privileged sections of society through a number of welfare activities. Sponsoring the collective marriages of the girls of poor households is one of key initiatives being vigorously pursued by the Foundation under the dynamic leadership of Dr Muhammad Tahir-ul-Qadri. MWF has so far arranged hundreds of such ceremonies throughout Pakistan.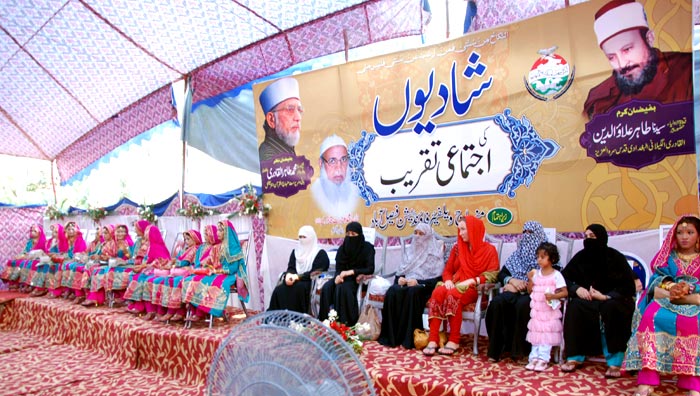 In line with its coveted and time-honoured tradition, the Faisalabad chapter of MQI arranged a collective marriage ceremony in Islamic centre, Gulfshan colongy, Faisalabad. MQI Secretary General Khurram Nawaz Gandapur presided over the ceremony. Syed Hidayat Rasool Qadri, Humayun Abbas Shams, Mian Kashif Mahmood, Ch Mahmood Alam Jutt, Rana Tahir Saleem Khan, Haji Muhammad Arif Baig, Sheikh Ijaz Ahmad, Ch Badar Ramiz, Haji Muhammad Saleem Qadri, Haji Muhammad Rafique, Ch Abdul Majeed, Haji Amin ul Qadri, Haji Muhammad Rashid Qadri, Haji Muhammad Ashraf, Khawaja Shahid Razzaq, Rai Mahmood ul Hassan Kharal, Ch Nasir Wali Muhammad, Raja Muhammad Ayub, Ch Taj Muhammad, Fatima Sajjad, Qamar-un-Nisa Khaki, Rana Rab Nawaz Anjum and a number of religious, political and social notables were distinguished among the audience at the programme.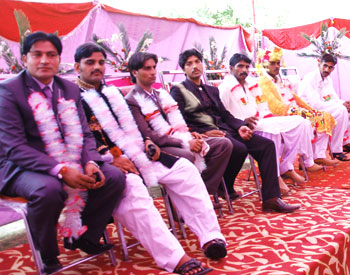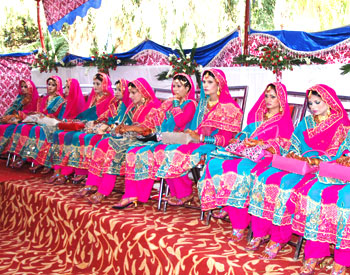 'Barats' started arrived at 11 a.m. and the entire process was completed at 1 p.m. They were extended a warm welcome upon arrival. The venue was decorated very tastefully to reflect the festivity of the occasion. The proceedings of the ceremony got underway with the recitation of the Holy Quran followed by Naat.
Addressing the ceremony, District Coordination Officer of Faisalabad Najam Ahmad Shah said that Dr Tahir-ul-Qadri's religious, welfare and educational services were worth emulation. He said that Dr Qadri was the ambassador of peace, adding that his struggle aimed at replacing hatred with love is what distinguished him from others.
In their remarks on the occasion, Khurram Nawaz Gandapur, Amjad Ali Shah, Engineer Rafique Najam, and Muhammad Arif Saddiqi said that it is responsibility of every individual to distribute happiness among the people and share their grief. They said that eliminating poverty, backwardness and ignorance was the practice of the Holy Prophet (SAW). They said that Dr Tahir-ul-Qadri had rendered a number of welfare projects under MWF into exemplary models of public service. They said that people were deprived of happiness due to prevailing state of affairs, adding that it had been MQI's endeavor to promote human brotherhood, love and harmony in the society at all levels. He said that MWF was busy helping the suffering humanity without any discrimination throughout the country.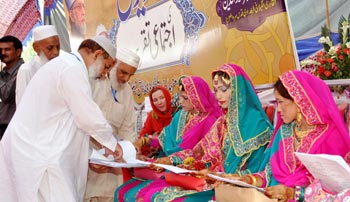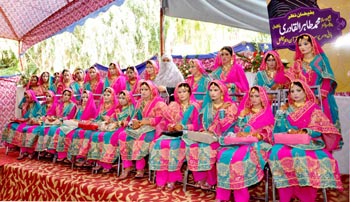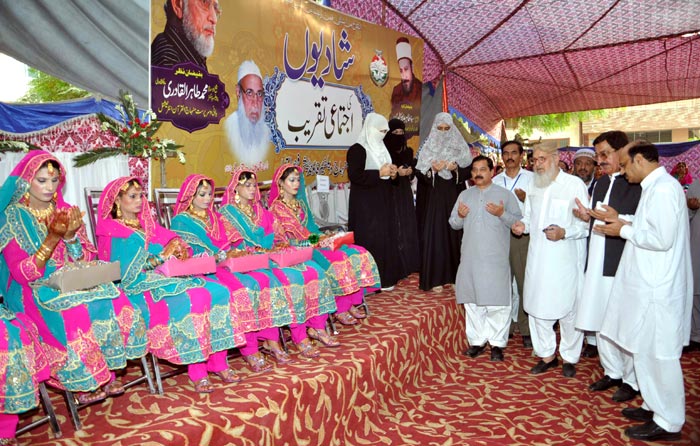 Qari Muhammad Amjad Zafar and Qari Muhammad Azam conducted the Nikah of the couples. Every bride was gifted household items of worth Rs. 100,000 that included the Holy Quran, prayer mat, cupboard, double sized bed, chairs, table, brief case, sewing machine, washing machine, fan, iron, clock, dinner set, plastic utensils, blanket, pillows, water and tea set and other items of daily use. Every groom was gifted wrist watch. 2000 guests were served marriage feast.
The marriage ceremony came to an end with the departure of 25 brides under the shadow of the Holy Quran. Those present on the occasion saw off the newly wed couples with prayers for a successful married life ahead. The parents of the couples prayed for good health and long life of Shaykh-ul-Islam Dr Muhammad Tahir-ul-Qadri.