Faisalabad: Labourers, workers & traders assure PAT of their support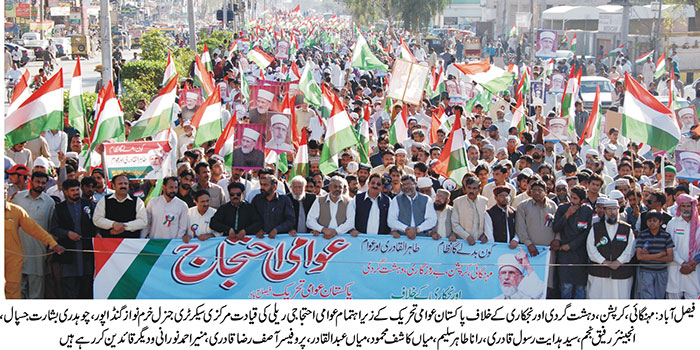 Pakistan Awami Tehreek (Faisalabad chapter) organized a rally on March 30 to protest massive price hike, escalating poverty, unemployment, terrorism and purported plan to privatize state-owned entities. The rally was led by PAT Secretary General Khurram Nawaz Gandapur, provincial President PAT Basharat Aziz Jaspal, Syed Hidayat Rasool Qadri, Engineer Muhammad Rafique Najam, Rana Tahir Saleem Khan, Mian Kashif Mahmood, Mian Abdul Qadir, Mian Inam-ur-Raheem, District President of Sunni Tehreek Muhammad Asif Raza, Haji Muneer Norani, Abid Qamar Norani, Haroon-ur-Rasheed Advocate, Haji Amin ul Qadri, Malik Amir Iqbal Qadri, Amir Hussain Mustafavi, Allama Aziz ul Hassan Awan, Prof Sayyida Kalsoom Akhtar and Ms. Fatima Sajjad.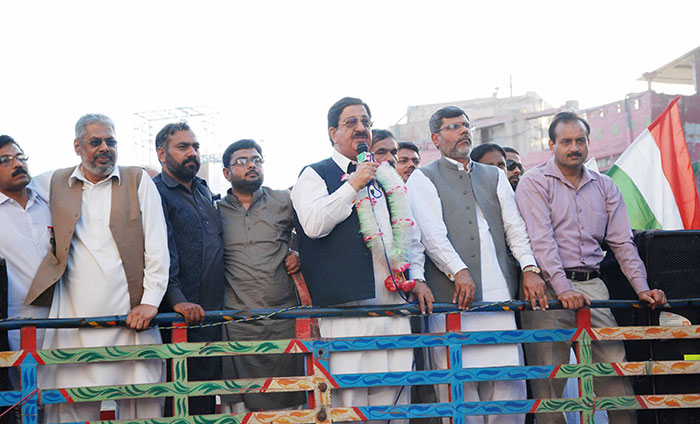 Addressing the hundreds of participants of the rally, PAT Secretary General Khurram Nawaz Gandapur said that the workers, labourers and traders had given their verdict by attending PAT rally in their large numbers that Faisalabad was hub of Pakistan Awami Tehreek. He said that no power of the world could stop the way of Mustafavi revolution. He said that it was not a matter of years but that of a few months that current electoral system would be sent packing. He asked the rulers to read what was written on the wall because the labourers of Pakistan had woken up. He said that labourers would not demand their rights from the rulers but rather snatch them under the leadership of Dr Tahir-ul-Qadri.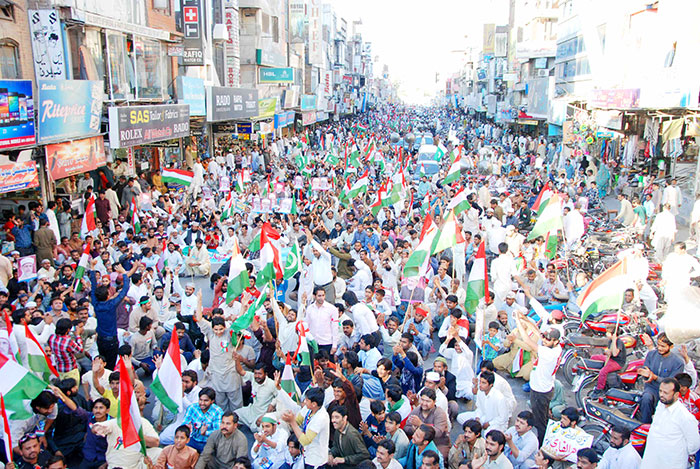 The central Secretary General said that PAT was leading rallies in every nook and corner of the country in an attempt to increase awareness against the elitist and exploitative system. He said that the hundreds of thousands of Pakistanis were joining the caravan of PAT, adding that people working homes, factories and mills of this privileged elite such as MNAs, MPAs, industrialists, landlords, ministers, and advisors had become comrades of Dr Tahir-ul-Qadri. He said that time was fast coming that this peaceful change would start from their own homes, factories and mills.
President of PAT Punjab chapter Basharat Aziz Jaspal congratulated the workers and office holders of PAT Faisalabad on organizing historic rally. He said that the people of the city proved in manifest terms that Faisalabad was a city of lovers of Dr Tahir-ul-Qadri.
Syed Hidyat Rasool Qadri and District PAT President Rana Tahir Saleem Khan directed the workers to make sustained efforts to spread message of Dr Tahir-ul-Qadri throughout the Faisalabad Division. They said that change in Pakistan would not come through elections but through revolution.
Muhammad Asif Raza, President of Pakistan Sunni Tehreek, assured PAT of his support, adding that we would not hesitate to offer any sacrifice for changing the corrupt system in the country.