Samaa News: Qadri leaves for 'Inquilab in Faisalabad' show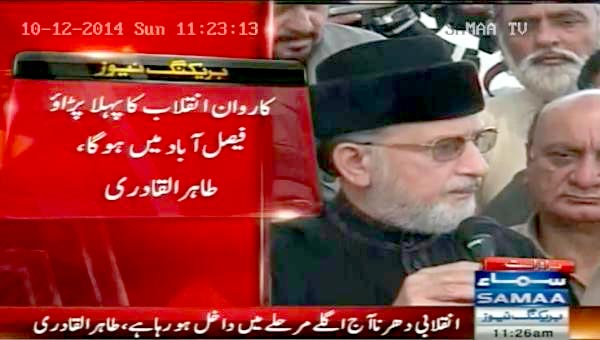 ISLAMABAD: Pakistan Awami Tehreek (PAT) Chief Tahirul Qadri has left for his party's show in Faisalabad where the preparations are almost finalized.
Before leaving, he addressed his party workers and termed the show as 'Inquilab in Faisalabad'. Qadri paid rich tributes to his followers for continuous struggle for revolution.
"Sacrifices of the party workers will bring revolution", he said.
Qadri said that the Faisalabad show will prove our success and failure of the corrupt government.
The PAT chief again vowed to continue the struggle until its purpose is achieved.
Special security arrangements have been made for the public gathering. Over 1200 security personnel will stand guard around the venue.
Several leaders of the allied parties including Chaudhary Shujaat Hussain and Pervaiz Elahi of PML-Q, Chairman Sunni Ittehad Council Sahibzada Hamid Raza, chief of Majlis Wahdatul Muslimeen Allama Raja Nasir Abbas, Sardar Assef Ahmed, Ghulam Mustafa Khar, Jay Saalik of Christian community and other leaders will address the rally. –SAMAA
Source: www.samaa.tv
Source : http://www.samaa.tv/pakistan/12-Oct-2014/qadri-leaves-for-inquilab-in-faisalabad-show