Give me 'vote, note and support' and I will bring revolution: Qadri
PAT chief says though govt could not be toppled so far but his speeches instilled a passion for revolution in hearts and minds of the whole nation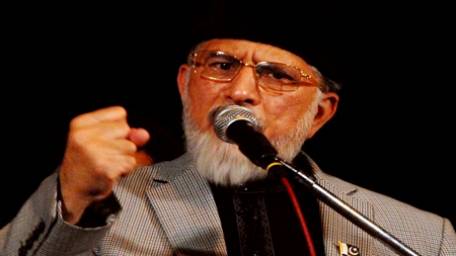 FAISLABAD: Pakistan Awami Tehreek (PAT) chief Prof Dr Tahirul Qadri on Sunday said give him vote, note (currency) and support and he would give the people revolution.
Addressing a mammoth rally, Qadri said that the current system favoured the corrupt only.
"My fault was that I gave a 10 point-agenda for the welfare of the poor in this country. My fault was that I announced to provide free education to all. My fault was that I announced to make a non-violent country. My fault was that I announced to provide basic necessities of life at half rates to the poor. My fault was that I talked of providing food and shelter to the poor", said Qadri.
"I was punished for all these faults with an attack on my residence. 14 innocent men and women lost their lives. When we observed a 'martyrs day' in Lahore, 25,000 of our workers were arrested. Then we led a long march to Islamabad and a 60-day sit-in was held in the federal capital. He said that Prime Minister Nawaz Sharif could have asked his brother Shahbaz Sharif to resign temporarily but he didn't," said the PAT chief.
Dr Qadri said, "Though their government could not be toppled but my speeches instilled a passion for revolution in the hearts and minds of the nation. As a result, today there are hundreds of thousands of revolutionaries are present in this gathering and Faisalabad has given its verdict in favour of the revolution."
The PAT chief said that he wanted to share some facts with the people listening to him. He said that since 1970, foreign loans on Pakistan were constantly rising. He said that currently the foreign loans were $65 billion. He alleged that the actual figure of the foreign loans has exceeded $90 billion as the government was portraying the foreign loans worth $35 billion as foreign investment. He said that the government was not serious in getting rid of these loans and as a result, people were getting poorer every new day.
Dr Qadri said that if he made visits to all parts of the world from United States to Japan, only the overseas Pakistanis will be enough to provide Pakistanis with enough money to pay their foreign loans. He said that revolution would change the lives of people living in all the villages and cities of Pakistan.
Source: http://www.dailytimes.com.pk