Qadri seeks financial and political support for revolution
By Mohammad Saleem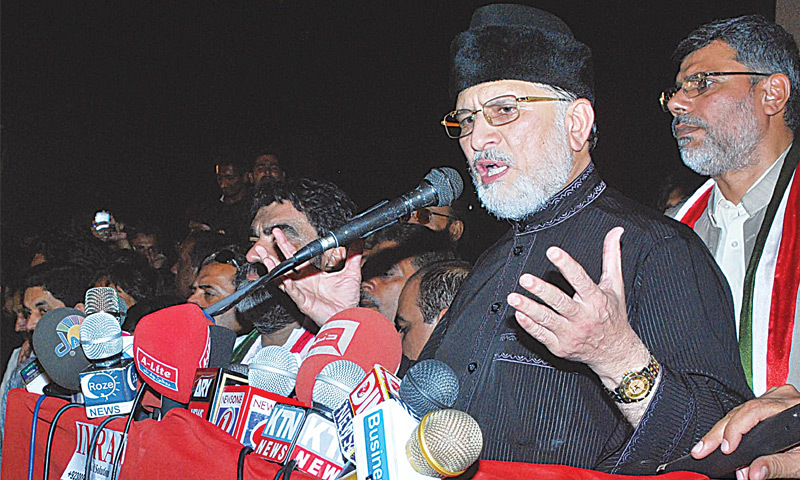 FAISALABAD: Pakistan Awami Tehreek chief Dr Tahirul Qadri has sought people's financial and political support and votes to bring about a revolution in the country.
He said he would soon give a call for countrywide sit-ins while the dharna in Islamabad would continue.
Addressing a large public meeting at the Dhobi Ghat ground here on Sunday, he asked people to get themselves registered as PAT members, make generous donations and vote for his party in national, provincial and local bodies elections. He also appealed to oversees Pakistanis for donations.
"I have no landlords or funds of the agencies for the revolution. I have never received even a dollar from national or international agencies."
Spelling out his political agenda, he said the PAT would take part in elections in the four provinces and Gilgit-Baltistan and make Pakistan a developed country.
He asked workers of his party to start preparations for the elections which he said might be held in six months, a year or later.
Dr Qadri said workers of his party had been killed in Lahore's Model Town and Islamabad as a punishment for taking up the cause of the poor and marginalised sections of society.
He criticised the present and previous governments and said they had kept piling up foreign debt which led to poverty and price hike in the country.
The foreign debt, which was $3.5 billion in 1970, $9.93bn in 1980, $20.66bn in 1990 and $54.6bn in 2010, now stands at $65.5bn. "We are paying huge interest on the foreign debt that is creating problems for the masses," he added.
He claimed that he could persuade oversees Pakistanis to clear the debt if he toured the United States and Africa for six months.
Earlier addressing the meeting, PML-Q leader Chaudhry Pervaiz Elahi said the rulers accused "us of hatching a conspiracy in London, although we were evolving an agenda for prosperity and development of the country. We are following an agenda for the wellbeing of common people".
He said Punjab had Rs100 billion in its treasury when he left the government, but now the province was under billions of rupees of debt. He criticised Prime Minister Nawaz Sharif for keeping quiet over the killing of people by Indian shelling.
Sunni Ittehad Council Chairman Hamid Raza said people would not accept a democracy which suppressed their rights. He held the prime minister responsible for the killing of people by the Indian military.
Nasir Abbas of Majlis-i-Wahdatul Muslimeen said people were now aware of their rights and wanted to get rid of the present system. PAT's central president Raheeq Abbasi also addressed the gathering.
Source: http://www.dawn.com/news/1137632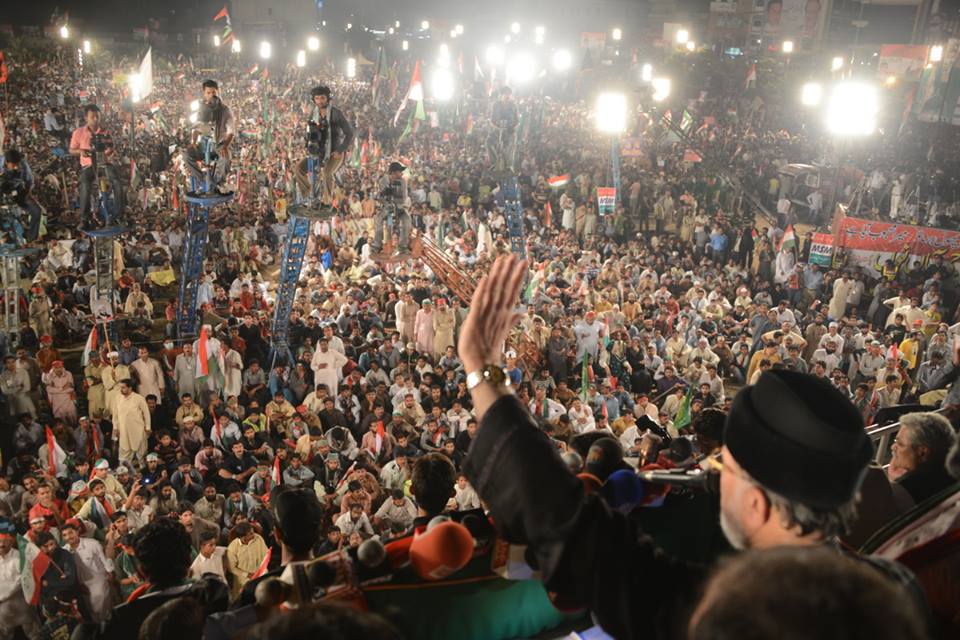 Source : http://www.dawn.com/news/1137632