40 couple wed at mass marriage ceremony under MWF Faisalabad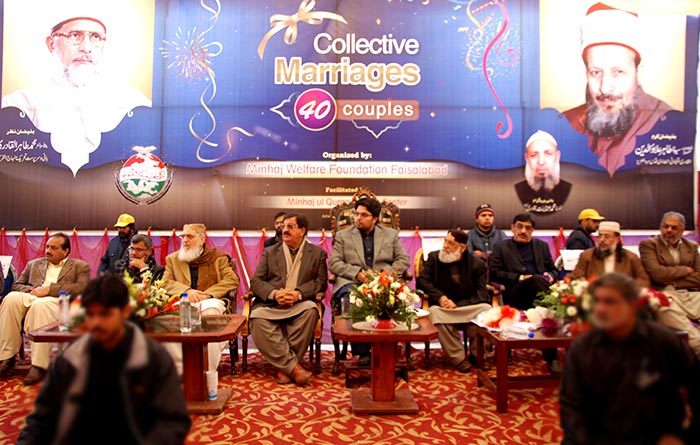 The 40 couples belonging to poor families tied the knot at a simple yet elegant mass marriage ceremony organized by Minhaj Welfare Foundation Faisalabad a few days ago. Every bride was gifted a household stuff of over Rs. 100,000 that consisted of various items such as the copy of the Holy Quran, prayer mat, cupboard, double-sized bed, chairs, table, brief case, sewing machine, washing machine, fan, iron, clock, utensils, dinner set, tea set, mattress, blankets, pillows, carpet, water set, make-up items and other necessities of life.
The chief guest of the collective marriage ceremony was President of PAT Federal Council Dr Hussain Mohi-ud-Din Qadri. In his speech on the occasion, he underlined the need of promoting philanthropy in the society. He said that at a time when challenges of poverty, inequality, unemployment and backwardness are grim realities of our times, it is the individual and collective responsibility of those who can afford to come forward and try to lessen the sufferings of their less fortunate brothers and sisters.
Dr Hussain Mohi-ud-Din Qadri said that Dr Tahir-ul-Qadri's services in the arena of human welfare are well known. He said that MWF's flagship initiatives such as 'Aagosh', and educational projects have become success stories. He said that the PAT and MQI have worked hard on promoting brotherhood and equality in the society and now MWF is serving the suffering humanity around the world under the leadership of Dr Tahir-ul-Qadri.
Speaking on the occasion, District Coordination Officer (DCO) Faisalabad Noorual Amin Mengal appreciated the welfare, educational and religious services of Dr Tahir-ul-Qadri. He said that Dr Qadri is a true ambassador of peace, tranquility and harmony. He said that his struggle to replace hatred by love is what distinguishes him in the world.

The collective marriage ceremony was attended by Khurram Nawaz Gandapur, Syed Amjad Ali Shah, Engineer Muhammad Rafique Najam, Bashrat Aziz Jaspal, Syed Hayadat Rasool Qadri, Mian Kashif Mahmood, Muhammad Arif Saddiqi, Qari Amjad Zafar, Ghulam Muhammad Qadri, Rana Tahir Saleem Khan, Mian Abdul Qadir, Haji Muhammad Arif Baig, Sheikh Ijaz Ahmad, Allah Rakha Qadri, Naeem-ul-Qadri, Haji Muhammad Saleem Qadri, Haji Amin-ul-Qadri, Haji Muhammad Rashid Qadri, Haji Muhammad Ashraf, Khalil Ahmad Khan, Rizwan Ashraf, Haji Afzal Qadri, and Rana Rab Nawaz in addition to renowned personalities of the area belonging to all walks of life.
Nikah of each couple was performed separately. Qari Amjad Zafar, and Qari Muhammad Azam were present for this purpose. Sumptuous marriage feast was served to 1500 guests. The prestigious ceremony came to an end when the brides were seen off under the shadow of the Holy Quran. Tears came to the eyes of the people present on the occasion. The parents of the brides and grooms thanked Dr Muhammad Tahir-ul-Qadri for organizing mass marriage ceremony and appreciated his services for the humanity.