Historic Public Fair held under PAT Faisalabad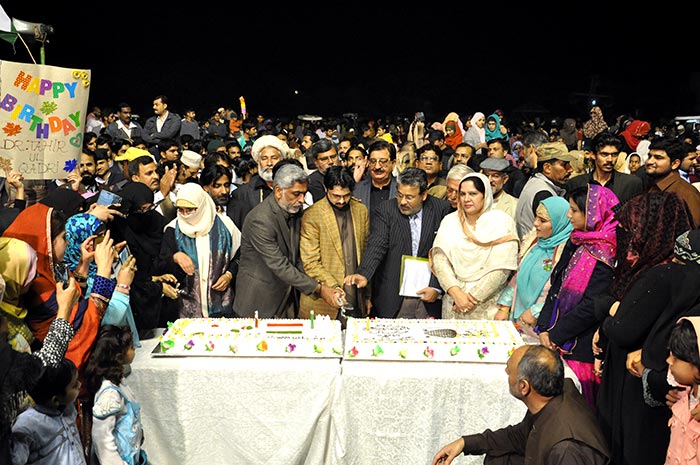 Pakistan Awami Tehreek (Faisalabad chapter) organized a prestigious public fair in a local club of Faisalabad on February 25, 2015. PAT Supreme Council President Dr Hassan Mohi-ud-Din Qadri and Secretary General Khurram Nawaz Gandapur were the guests of honour on the occasion, whereas the event was presided over by PAT Punjab President Chaudhry Basharat Aziz Jaspal.
Addressing the participants of the public fair, Dr Hassan Mohi-ud-Din Qadri said that corrupt, obsolete and elitist political system of Pakistan is reeling under its own burden and the day is not far when the whole edifice will come crumbling down. He asked the people to support Dr Qadri to give a last push to the crumbling walls. He said that Dr Qadri is coming to Pakistan in the month of March and he would resume his struggle from the same point where he left it a few months ago before leaving for the US for his treatment. He said that revolutionary struggle will continue till smiles on the faces of the poor are not restored and this anti-people system is not sent home. He said that it is need of the hour that the Pakistani people take to the streets for their rights as sitting idle at home and expecting change is not an option anymore.
Khurram Nawaz Gandapur, Fayyaz Ahmed Warraich, Rana Tahir Saleem Khan, Syed Hidayat Rasool Qadri, Mian Abdul Qadir, Mian Kashif Mahmood, Chaudhry Nasir Habib Advocate, Dr Robina Rasheed, Farhat Dilber, Safeer Khan Advocate, Mian Zahoor Ahmad, Rana Nisar Ahmad Shahzad, Malik Sarfraz Qadri, and Ghulam Muhammad Qadri also addressed the ceremony. They paid glowing tributes to martyrs of Model Town tragedy and said that they are the first martyrs who shed their blood for the cause of revolution. They said that the killers of innocent people will be held accountable for their actions and justice meted out.
Renowned artists and singers performed on the occasion in public fair. More than one thousand families cut the cakes to mark the birthday of Dr Tahir-ul-Qadri. CDs, books and food stalls were set up. The citizens of Faisalabad took keen interest in the public fair and paid tributes to the local leadership of PAT for holding this gala event. Thousands of men, women, and children attended the event. In their views, the citizens said that PAT has provided people with reason to be happy at a time when terrorism, extremism, and price hike have worried the masses.