PAT rally in Faisalabad demands justice for martyrs of Model Town tragedy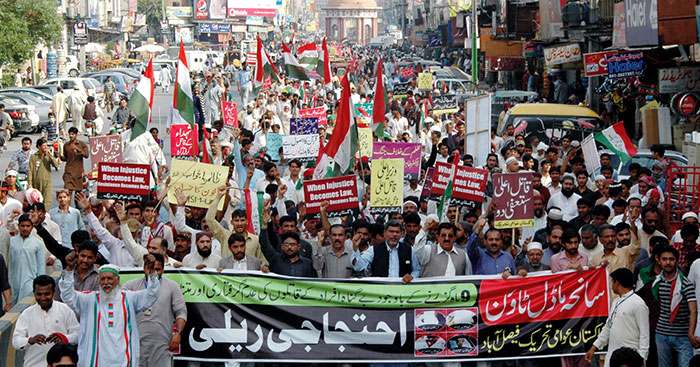 A protest rally was taken out against the Punjab government in connection with the Model Town tragedy under the banner of PAT Faisalabad chapter. Thousands of PAT activists including people belonging to all walks of life attended the rally. The participants chanted slogans against the government and demanded justice for the martyrs and the injured of Model Town tragedy. PAT leaders Khurram Nawaz Gandapur, Bashrat Jaspal, Rana Tahir and Rana Idrees Qadri addressed the rally.
Speaking to the participants of the rally, PAT Secretary General Khurram Nawaz Gandapur said that the present rulers of Punjab are the killers of our 14 innocent workers. He said that the Judicial Commission also held the Punjab government responsible for massacre in Model Town, adding that JIT consisting of killer police is not acceptable at any cost. He said that Rana Sanaullah and Dr Touqir Shah, central characters in the Model Town killings, have been made Deputy Chief Minister and Ambassador to WTO respectively.
The PAT Secretary General said that there is no change in the position of Dr Tahir-ul-Qadri. He said that the PAT chief has the same stance today on the constitution of JIT and taking of Qisas in accordance with law as he had on these issues on the day one. He said that the Supreme Court rejected the JIT report on the Kot Radha Kishan tragedy and ordered the establishment of new JIT to probe the incident of killing of a Christian couple. He asked how we can leave the investigation into killings of our workers at the mercy of personal servants of the Sharif brothers. He appealed to the military leadership to extend the scope of National Action Plan to the ruling party as well. He also demanded that militant wings in the political parties should be eliminated without any discrimination. He also demanded that the Model Town case should be transferred to the military court for trial.
Khurram Nawaz Gandapur asked the Punjab Chief Minister to tell that if he ordered to the police to stand down at 9.00 am on the morning of June 17, why did it not withdraw and what action did he take against the police officials in this regard? He said that all martyrdoms took place after 11 am. He asked if the Chief Minister is innocent, then why is he afraid of constituting a neutral JIT and why does he not release the report of the Model Town Judicial Commission?
While addressing the rally, other PAT leaders said that Dr Touqir Shah was appointed ambassador in return for his 'services'. They said that political intervention has destroyed the Punjab police as an institution and no one including the courts trusts the police anymore, adding that the Sharif brothers are responsible for this.