Congregational marriage ceremony held under MWF Faisalabad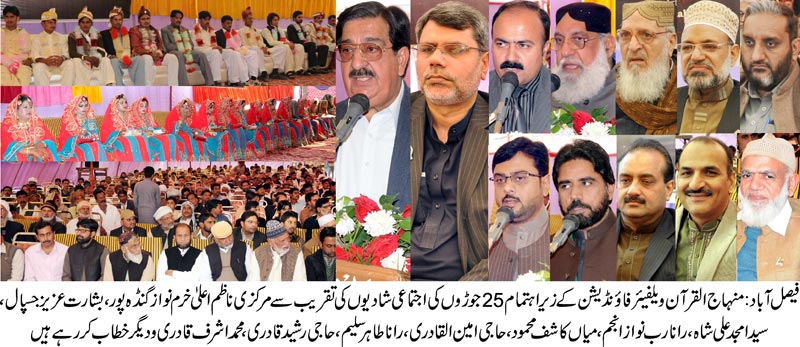 25 couples entered into marital relationship at a mass marriage ceremony held under the banner of Minhaj Welfare Foundation (Faisalabad chapter) in Gulfishan colony. Every bride was given household stuff of worth Rs. One hundred thousand, which included the Holy Quran, prayer mat, Almira, double bed, chairs, table, sewing machine, washing machine, iron, utensils, dinner set, and other things.
Qari Sarfaraz Ahmad Sialvi, and Qari Muhammad Asif solemnized the Nikah of each couple. Food was served to 2000 guests. The ceremony was presided over by PAT Secretary General Khurram Nawaz Gandapur, whereas MWF Director Syed Amjad Ali Shah, and Basharat Jaspal were the guests of honour. In addition to social and right activists, those who attended the ceremony included Rana Rub Nawaz Anjum, Mian Kashif Mahmood, Ghulam Muhammad Qadri, Rana Tahir Salim Khan, Sheikh Ijaz Qadri, Muhammad Asad Qadri, Haji Muhammad Saleem Qadri, Haji Muhammad Rafique, Haji Amin-ul-Qadri, Haji Muhammad Rashid Qadri, Haji Muhammad Ashraf, Malik Sarfraz Qadri, Qari Amjad Zafar, and Umair Hanif.
Khurram Nawaz Gandapur congratulated all the newly wed couples on starting a new phase of life and wished them best of luck for future. He also appreciated the hosts for making excellent arrangements of the ceremony. He said that Dr Tahir-ul-Qadri's services in multiple fields particularly in the field of human welfare are praiseworthy. He said that Dr Qadri is true Ambassador of love who is replaced darkness with light and hatred with love. He said that it is his contribution to improvement of life of common man that distinguishes him from others.
Syed Amjad Shah said on the occasion that given the increasing level of price hike, it has become nearly impossible for the poor and downtrodden sections of society to marry off their daughters. He said that Minhaj Welfare Foundation under the leadership and patronage of Dr Tahir-ul-Qadri has made it a point to hold congregational marriage ceremonies which are fully funded where men and women belonging to poor households enter into marital relationship. He said that it is responsibility of every citizen to work to work for betterment of others around him and play his/her role in this regard. He said that reducing inequality and removing backwardness is the Sunna of the Holy Prophet (SAW). He also threw light on various welfare projects being implemented under the banner of MWF.
PAT Punjab President Basharat Aziz Jaspal also spoke on the occasion. The newly wed couples were seen off under the shadow of the Holy Quran.