The legal fight for justice to continue at any price: Khurram Nawaz Gandapur addresses Workers Convention in Faisalabad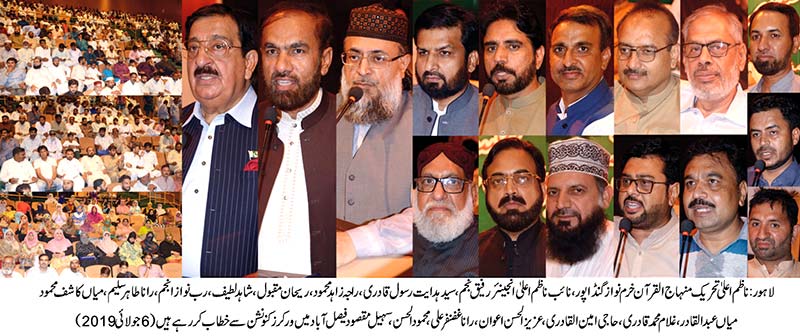 Secretary General MQI Khurram Nawaz Gandapur has said that the PAT and MQI workers were motivated by the passion to render any sacrifice for the stability of the country and their commitment and passion has not abated a bit. He said that the martyrs and the injured of Model Town are our pride and asset and we can never forget their sacrifices. He said that we would continue to fight the legal battle to seek justice for their families until our last breath. He said that Nawaz Sharif and Shahbaz Sharif are the masterminds of Model town tragedy and the looters of 200 million people.
Khurram Nawaz Gandapur made these remarks while addressing a workers convention in Faisalabad. Senior leaders including Engineer Rafique Najam, Syed Haydat Rasool Qadri, Kashif Mahmood, and Mian Rehan Maqbool also spoke on the occasion. MQI and PAT leaders particularly Raja Zahid Mahmood, Shahid Latif, Hafiz Rub Nawaz Anjum, Rana Tahir Saleem, Mian Abdul Qadir, Ghulam Muhammad Qadri, Haji Amin ul Qadri, Aziz-ul-Hassan Awan, Farhat Dilbar Qadri, Asif Aziz, Umar Farooq, Rana Ghazanfar Ali, Allah Rakha Naeem, and Mahmood ul Hassan were also present in the convocation.
MQI Secretary General said that both the Sharif brothers made the plan of Model Town and handed over the responsibility of implementing it to Rana Sanaullah. He said that the former Punjab Law Minister will have to finally make a confession that the sinister plan of Model Town was chalked out in Jati Umra. He said that Rana Sana can lessen the burden on his conscience by revealing the names of those involved in approving an operation on the innocent citizens in Model Town.
Khurram Nawaz Gandapur said that there was no one except Allah Almighty and the Pakistani media to who we could look up to during the massive oppression in Model Town. He said that despite the passage of five years, we are not disappointed and will continue to knock on the doors of one court after the other. He said that if the country's courts failed to provide justice, then Allah will certainly dispense it.
He said that we always taught our workers to respect the law of the land. He vowed to go to any extent for the sake of justice despite any economic cost. He said that Dr Tahir-ul-Qadri was right when he said that the major hurdle in the way of justice is the oppressive system. He said that our legal struggle continues unabated and we are hopeful that we will get justice from the courts.