Dr Hassan Mohi-ud-Din Qadri addresses at 'Chehlum' of Sayyid Hidayat Rasool Shah Qadri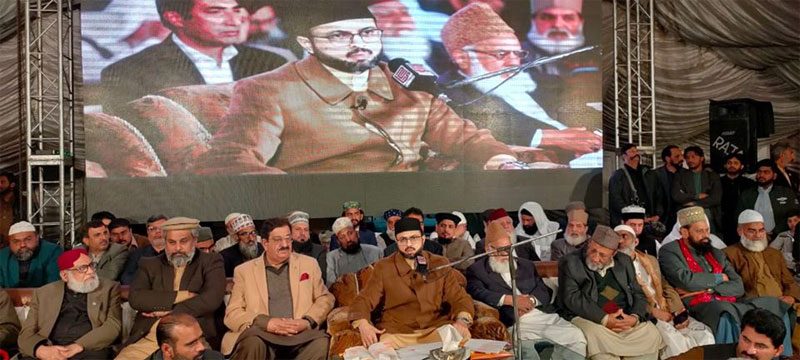 Addressing the 'Chehlum' ceremony of late Sahibzada Pir Sayyid Hidayat Rasool Shah Qadri, Chairman MQI Supreme Council said that Pir sahib was a great asset of MQI and Ahl-e-Sunnat. He had devoted his life to Islam and MQI with complete and unflinching sincerity.
Dr Hassan Mohi-ud-Din asked people to enlighten their hearts with the love and obedience of Allah Almighty and His Prophet (peace and blessings be upon him). He said the lucky are those who surrender themselves to the Will of Allah, stating that Sayyid Hidayat Rasool Qadri was among this category of people who lived a life of a purpose. He said life is incomplete with sincerity.
Khurram Nawaz Gandapur, Sahibzada Hamid Raza, Khawaja Ghulam Qutab-ud-Din Faridi, Sayyid Masood Shah, Dr Sayyid Shah Hassan, Mufti Abdul Qayyum Khan Hazarvi, Sayyid Nabeel-ur-Rehman Shah, Engr. Muhammad Rafique Najam, Allama Saeed Ahmad Asad, Sayyid Himayat Rasool, Sayyid Shafaat Rasool, Chaudhry Basharat Jaspal, Allama Nooruzzaman, Allama Aziz-ul-Hassan, Sayyid Zabeeb Masood, Muhammad Ilyas Aazami, Allama Attiq Saeedi, Haji Amin-ul-Qadri, Qari Muhammad Siddique, Rehan Maqbool, Rana Tahir Saleem, Mian Kashif Mahmood, Rana Rab Nawaz, Allah Rakha attended the Chehlum ceremony in addition to naat khawans, Ulama, Mashaykh and a large number of people.
The speakers on the occasion paid rich tributes to late Sayyid Hidayat Rasool Shah Qadri. They said he always taught love, brotherhood, and peace in his life. They said the influence of his personality will stay for a long time. They said he also played a leading role in the restoration of real teachings of spiritualism, stating that he was actively involved in the mission of creating harmony and respect among different schools of thought.
The ceremony came to an end with special Dua.