Quaid Day ceremony held in Faisalabad
Dr Tahir-ul-Qadri doing his best to reform society: Dr Hussain Mohi-ud-Din Qadri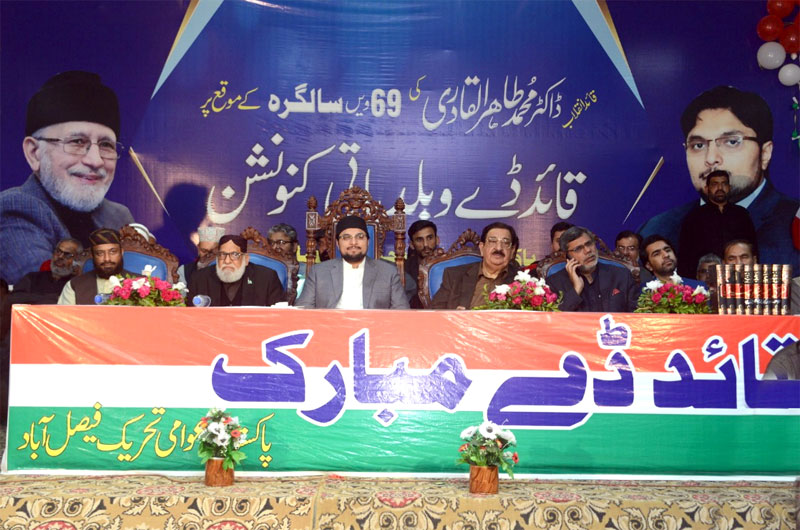 MQI chapters continue to hold ceremonies and conferences throughout the country to highlight the contributions and services of Shaykh-ul-Islam Dr Muhammad Tahir-ul-Qadri in the fields of knowledge creation, education, and human welfare. These events are taking place under the theme of 'An incredible era of scholarly research and reconstruction'.
MQI Faisalabad chapter organized the Quaid Day ceremony on Feb 22 in this regard. President MQI Dr Hussain Mohi-ud-Din Qadri was the guest of honour on the occasion, whereas Khurram Nawaz Gandapur, Engineer Rafique Najam, Basharat Jaspal, Mian Rehman Maqbool, Mian Abdul Qadir, Mian Kashmir and thousands of the workers attended the birthday celebration.
In his keynote address, Dr Hussain Mohi-ud-Din Qadri threw light on Dr Tahir-ul-Qadri's role as a reformer. He said that Dr Qadri took up the mission of reforming the society through his speeches and pen. He said that he has been worked hard day in and day out to make people into patriotic citizens, stating that his work has influenced thousands of the youth living inside and outside of Pakistan. He said the youth and students are turning to the study of the Holy Quran and Islam.
The cake was cut at the end of the programme followed by Dua.