25 Collective Marriages under MWF Faisalabad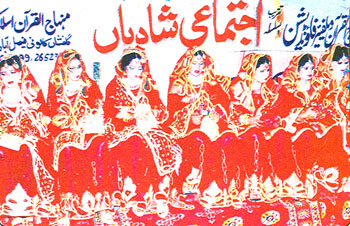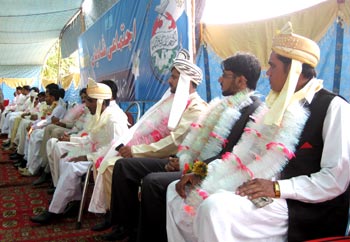 Minhaj-ul-Quran Welfare Foundation (Faisalabad chapter) organized congregational marriages of twenty five couples on November 9, 2008 in Gulfashan Colony, Faisalabad. Naib Nazim-e-Ala MQI, Sheikh Zahid Fayyaz, presided over the programme whereas senior provincial minister, Raja Riaz Ahmad, was the chief guest at the occasion. Nazim MWF Dr Shahid Mahmood, Syed Haydat Rasool Shah, Haji Muhammad Saleem, Khawaja Islam, Chaudhry Saleem Akhtar, Muhammad Yousuf Motti, Rafeeq Anjum, Haji Inayatullah, Maher Rasheed Qadri, Mian Abdul Qadir, Haji Muhammad Amin, Safder Ali and other leaders of MQI were also present at the occasion.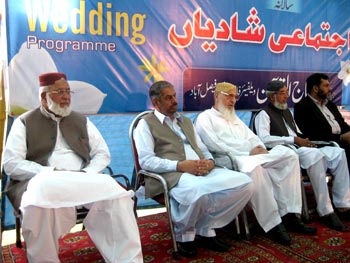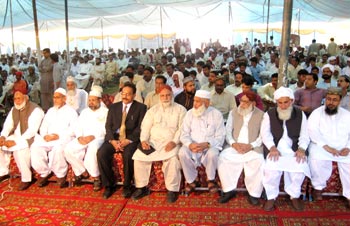 The formal proceedings of the program got under way with recitation from the Holy Quran followed by recital of Naat. MWF organized this program in a beautiful venue with brides and bridegrooms seated on the right and left sides of main stage. Red carpet welcome was given to the brides and bridegrooms along with their guests upon their arrival to the venue. Flowers were showered upon people. Qari Sarfraz Ahmad and Hafiz Muhammad Azam solemnized the Nikkah of couples. Every bride was given a dowry of Rs. 1 lakh consisting of necessary home items.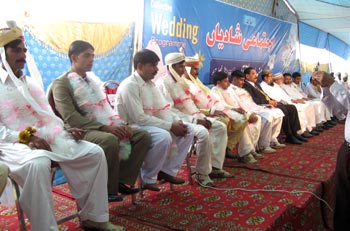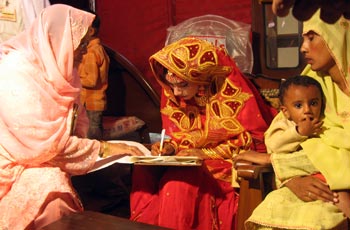 Addressing the ceremony, Sheikh Zahid Fayyaz said MWF was busy for the welfare of the humanity without any discrimination and the arrangement of 25 congregational marriages was a case in point. Poverty, price hike and inflation have made life miserable for common man. There was need to reach out to the underprivileged sections of society. He said MWF has extended the operations of MWF in other cities too.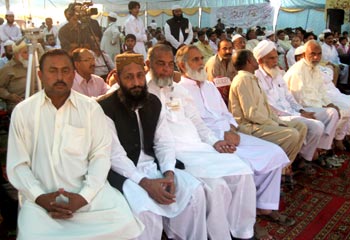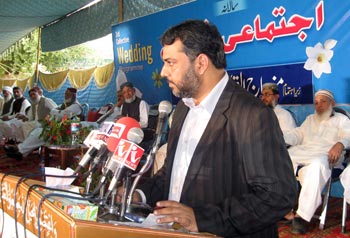 Senior provincial minister, Raja Riaz Ahmad, said that he was privileged to be part of a gathering of congregational marriages organized by Minhaj Welfare Foundation (MWF). He said Dr Muhammad Tahir-ul-Qadri was spreading the real message of Islam based on peace and welfare across the globe. He said there was a need to start such ventures to help out the downtrodden people. He also urged the need of arranging such functions for public welfare at the governmental level. Those who spoke at the occasion included Dr Shahid Mahmood, Khawaja Islam, Haydat Rasool Qadri and others. The ceremony concluded on special Walima feast followed by Dua.