Mass marriage ceremony held under MWF Gujrat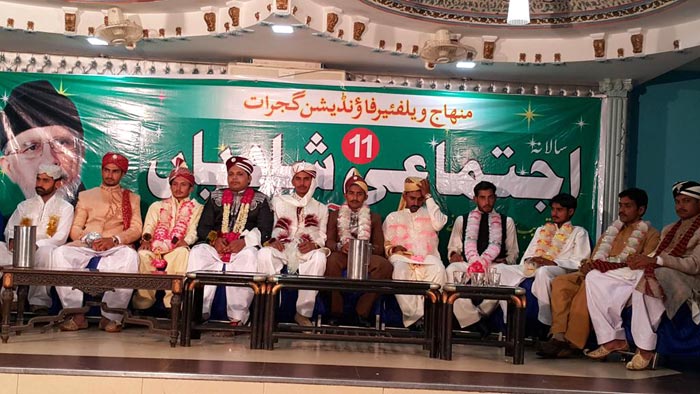 Addressing the mass marriage ceremony held under the banner of Minhaj Welfare Foundation Gujrat, PAT President Dr Raheeq Ahmad Abbasi has said that sharing the grief and reducing the hardships of the poor and downtrodden sections of society is the real worship. He said that mass marriage project is a flagship programme of Minhaj Welfare Foundation, which is being implemented throughout the country in the light of vision of Dr Muhammad Tahir-ul-Qadri. He said that MWF (Gujrat chapter) funded the marriages of 11 girls wherein every bride was given a household stuff of Rs. 2 lacs, adding that all marriage expenditures have also been borne at the same time.
In addition to Dr Raheeq Abbasi, MWF Director Amjad Ali Shah, host of the ceremony Haji Arshad, Chaudhry Khaliq, Arshad Ansari, and Iqbal Azam spoke on the occasion. The prominent notables of Gujrat, members of civil society, and journalistic community attended the ceremony in large number. They gave their blessings to the newly wed couples and paid a rich tribute to PAT and MWF on holding mass marriage ceremonies throughout the country. They said that the service of humanity is the great worship in this day and age.
Dr Raheeq Abbasi congratulated the newly married couples on starting a new phase of their lives and expressed his best wishes for them. He also lauded the organizers of the ceremony and said that MWF will continue to work for the welfare of the humanity in general and the poorest of the poor in particular under the leadership of PAT leader Dr Muhammad Tahir-ul-Qadri.
Ceremony of 11 collective marriages in Gujrat arranged by Minhaj Welfare Foundation in progress. @minhajwelfare pic.twitter.com/QQhKVn8Jcz

— Dr. Raheeq Abbasi (@RaheeqAbbasi) April 27, 2015