12 Couples Wedlock at MWF Gujrat Ceremony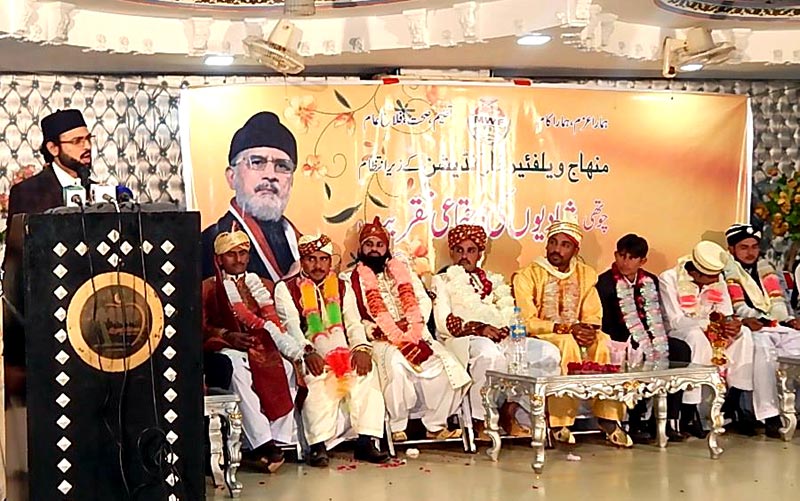 "Minhaj Welfare Foundation has been out to serve the ailing humanity for last three decades without any discrimination. It has been at the forefront of rescue, relief and rehabilitation efforts in natural calamities not only in Pakistan but also abroad".
This was stated by Dr. Hassan Mohi-ud-Din Qadri at a gracious ceremony of collective marriages held at Gujrat. He further lauded that it is matter of immense pride that mission of MWF is to cater provision of basic necessities, education and health facilities to the downtrodden class under the auspicious leadership of PAT Chairman Dr. Muhammad Tahir-ul-Qadri.
The ceremony of collective marriage arranged by Minhaj Welfare Foundation (Gujrat) where 12 couples from Gujrat and suburban's were wed locked in an elegant ceremony on December 15, 2015. All the distinguished guests, brides, grooms and baraties had a red-carpet reception.
Syed Amjad Ali Shah-Director MWF orated that Minhaj Welfare Foundation is commencing numerous welfare projects in three major sectors; education, health and social welfare. He spotlighted that every year 150 to 200 deserving girls are supported for their marriages with Rs. 150,000/- dowry set. He elaborated that it was clairvoyance vision of Shayk-ul-Islam since establishment of MWF to provide subsidies education to the masses at large. Thus, with the Grace of Allah more than 600 schools, 1500 water pumps, and more than 1000 marriages are on credit of MWF. Apart from this, thousands of victim families are supported during natural disasters every year. He appreciated the efforts of organizers and donors of the event.
All the grooms and brides were accorded with wedding gifts. The guests were served with lunch.