Tahirul Qadri to be accorded warm welcome at Nine Zero today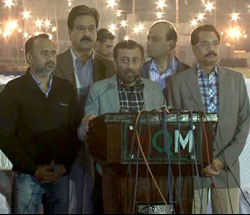 KARACHI: Deputy convener of MQM's Rabita Committee Dr. Farooq Sattar said Chairman Tehreek-i-Minhaj-ul-Quran International (TMI) Dr Tahirul Qadri will address a public meeting at the Jinnah Ground, Azizabad, which will witness the largest crowd in its history.
Addressing a press conference along with the members of the Muttahida's Coordination Committee in connection with today's public gathering at Jinnah Ground, Farooq Sattar said Allama Dr. Tahirul Qadri will be cordially received with a rousing welcome on his arrival at Nine Zero, the headquarters of Muttahida Quami Movement (MQM).
He said the public meeting with the theme "Journey for Revolution in Pakistan" will be the biggest in the history of Jinnah Ground, adding the new year will bring the message of prosperity and goodwill for the people in the country.
Dr. Farooq Sattar said, "We are waging a campaign to save the country. The country cannot afford the landlord and wadera system. The MQM is working on the theory of 'Change System, Change Pakistan'."
The MQM leader said it is incumbent upon the political parties to take public on board as stakeholders in the national affairs, adding the future manifesto will be framed in today's public gathering and January 14 long march.
The MQM embarked on the Long March in past as well and the party will not only support it but also make full-fledge participation in it, he added.
A statement said both MQM Chief Altaf Hussain and Allama Tahirul Qadri would make important announcements about the long march on Islamabad being organised by the Tehreek-i-Minhaj-ul-Quran on January 14.–CNBC Pakistan
Source : http://www.cnbcpakistan.com/Tahirul-Qadri-to-be-accorded-warm-welcome-at-Nine-Zero-today-news-12888.html