SAMAA: Dr. Qadri says revolution is only remedy for national issues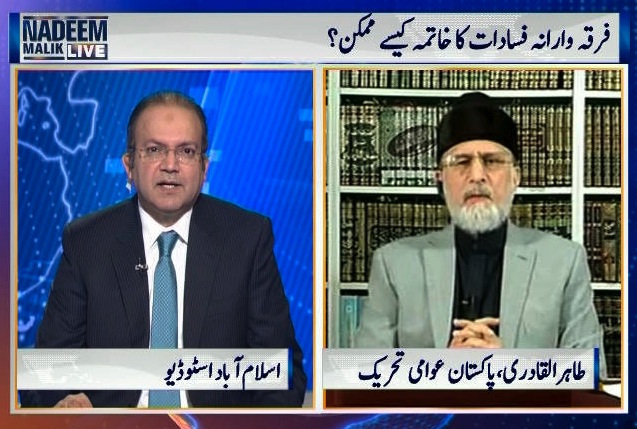 KARACHI: Dr. Tahir-ul-Qadri, patron of Pakistan Awami Tehreek said the rulers of Pakistan do not work towards the resolution of public problems; hence, they in themselves become the root-cause of dictatorship, adding the two large parties in government and the opposition are corrupt and do not want to delegate powers to anyone else.
Speaking at SAMAA TV program, 'Nadeem Malik Live', he said the prevalent political and democratic system offers no solution for the national problems; only revolution can rid the nation of its myriads issues, adding the country needs to be relieved of corrupt rulers.
Answering a query regarding the outcome of his sit-in, Dr. Tahirul Qadri said the consequence of his historic Long March and the subsequent struggle is that everyone now says that he was a right in whatever he said about the elections.
He said the Election Commission that held the polls is in itself a disaster and the elections and the subsequent democratic dispensation are not a bit different.
Replying to a query regarding the continuation of the democracy through these elections, Dr. Qadri said military takeovers spawn nothing but troubles; but, the democratic governments invite them (coups) with their bad governance and pervasive corruption.
Answering a query regarding the solution, Tahir-ul-Qadri noted this corrupt electoral system offers no solution at all for the issues being faced by people; if someone does so, it is like using deadly poison to seek recovery from ailment and that dacoits are approached for protection.
Reacting to 'The revolution is not a constitutional pathway', he said the constitution was kidnapped with multiple amendments, as there are two major corrupt parties that do not to let go off the powers from their hands.
"I want to tell in categorical terms that the constitution was sabotaged in these elections. Clause-N of Article-63 of the Constitution says: A person shall be disqualified from taking part in the elections if he borrows a loan of two million rupees and does not pay it till the time of filing of his nomination.
Citing clause-O of Article-63, he said if someone does not pay their bills for over six months, he cannot qualify to participate in the elections.
Article-63, clause-O is: he or his spouse or any of his dependents has defaulted in payment of government dues and utility expenses, including telephone, electricity, gas and water charges in excess of ten thousand rupees, for over six months, at the time of filing his nomination papers; or
Dr. Qadri asserted the revolution will be brought about in the country under Article-38 of the Constitution, that states the government should provide its citizens with all basic necessities of life.
The preparations are in progress to sell state-owned enterprises like PIA and Steel Mills on extremely low prices; but, the ruler of the country will buy them in collaboration with Shinwatara family of Thailand.
During a meeting with US Defence Secretary Chuck Hagel who is currently in the country, it has been impressed upon leaders that Pakistan is no more required by the US as a route for NATO supply routes, as Iran has been opted for the purpose, he informed.
He added Pakistan has been denied the pre-settled amount of aid; only a portion of it was sanctioned with strings attached, alluding to the missile strikes inside Pakistan.
Speaking in the backdrop of the US official's current visit to Pakistan, Dr. Qadri asserted Pakistan has been allowed to pursue its gas pipeline project with Iran.
In reply to the ongoing discussion as to who is 'martyr', PAT founder noted soldier who fights for the homeland, is undoubtedly a martyr and the one who calls throat-slitters as martyrs, is rendering services to none but the kufr (paganism).
He added that one who does not decline any fundamental beliefs of Islam, cannot be declared a pagan (kafir).
Responding a question regarding the high treason trial against Former President General (rtd.) Pervez Musharraf, he said everyone who corroborated the October 12 coup ever since its occurrence,-- whether a judge or anyone else—should be brought to book.
Towards the close of the program, Dr. Qadri addressed the citizens of Pakistan to come out of their houses to join hands with him for the revolution; adding it will remain a distant reality until everyone comes out of his house for the cause. --SAMAA
Source: http://www.samaa.tv/Dr.-Qadri-says-revolution-is-only-remedy-for-national-issues-74807-1.html
Source : http://www.samaa.tv/Dr.-Qadri-says-revolution-is-only-remedy-for-national-issues-74807-1.html